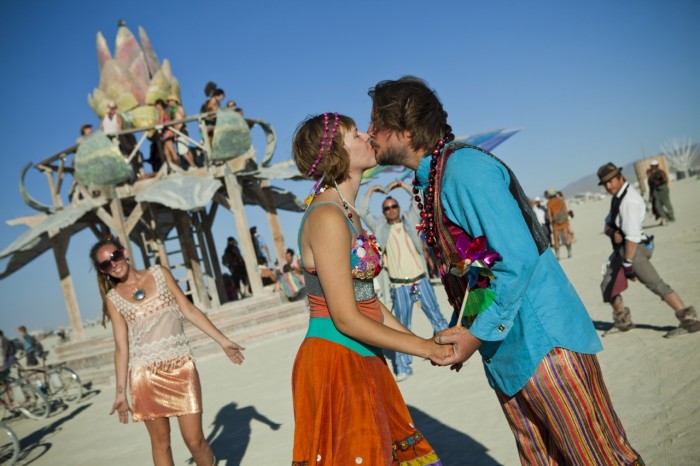 photo by Blake Gardner
Jason and I met at Burning Man 2009, he proposed there on September 1st in 2011, so the obvious place to have our wedding was Burning Man 2012 on September 1st, which happened to be burn day. The internet has more wedding-planning blogs than it can handle, but there's not much devoted to planning a wedding on the playa. Basically, I'm writing this so that the top search results aren't making fun of receptions where some of the guests are nude. [Contrary to my expectations, there wasn't anyone naked at my wedding! There were some topless people though, and I was mildly disappointed that only one guy was shirt-cocking.]
My target audience is people who have actually been to Burning Man. You know what it's like out there, how much water to bring, and that jazz. How the fuck do you get married there?  It's an easy pain in the ass.
THE TECHNICALITIES:
Burning Man has a tiny page dedicated to wedding information, but it's pretty incomplete, so you'll definitely need to email BM weddings for up-to-date requirements. Be forewarned that Pershing County wants your officiant's registration information no later than 1 August, so get this ball rolling sometime in July. They will need to include an affidavit of good standing from the ordaining organization. If you don't have a friend to officiate, there are volunteer officiants on the playa and you should contact Armadillo at BMorg to make arrangements.
You will need to pick up your Marriage License from any court in Nevada; the courthouse in Reno is open till midnight and convenient to get to. You need ID, $60 cash, and also you're both supposed to know the cities and states where your parents were born (I had to guess for mine). After the ceremony, have the officiant and two witnesses sign the Marriage Certificate, and then mail it back to the courts within 10 days. The court will give you all these instructions too. READ THEM. Also, don't lose the packet on the playa!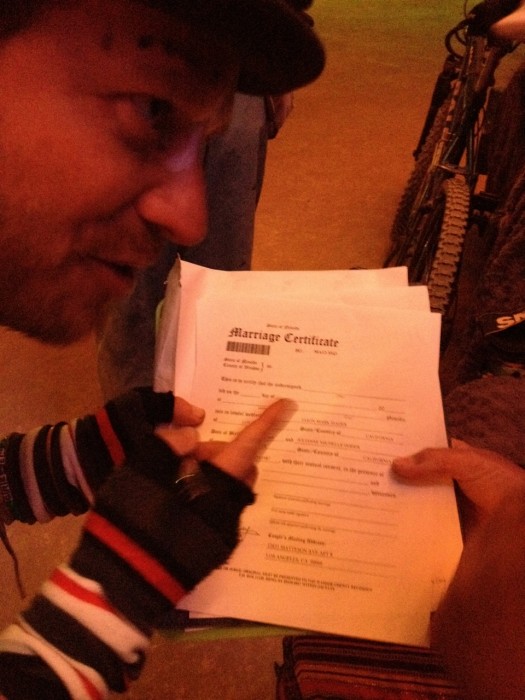 We signed our certificate on our art car while the Man burned, 'cause we're that fucking awesome.
THE ARRANGEMENTS:
For me, the greatest thing about having a wedding at Burning Man is that it doesn't need much planning. Most wedding traditions simply aren't possible out there, so that's a lot less to worry about. No seating chart, no catering, no flowers or favors or any trappings that we don't absolutely want and are willing to transport out to the desert. Our location gave us the chance to consider what we want our ceremony to be, allowed us to focus on the meaning rather than the material, and kept us from getting self-centered. It's not just our special day, it's fucking Burn Day on the playa, and it kept me humble.
Burning Man can be pretty expensive. But it's cheaper than a traditional wedding. Our wedding didn't really add anything to our normal Burning Man budget, except maybe a case of champagne at Costco. That being said, it gave us license to splurge a little on some luxuries. I loved justifying little purchases as "it's for my wedding!" On a side note, it's generally just awesome to be about to get married and to tell strangers about it. It makes everyone happy (and you can use it to your advantage, as in when you need your sewing machine repaired ASAP to finish the wedding dress). Share your impending joy!
In the spirit of "leave no trace" and "that's not really us" we made a website invitation that was emailed to our nearest and dearest.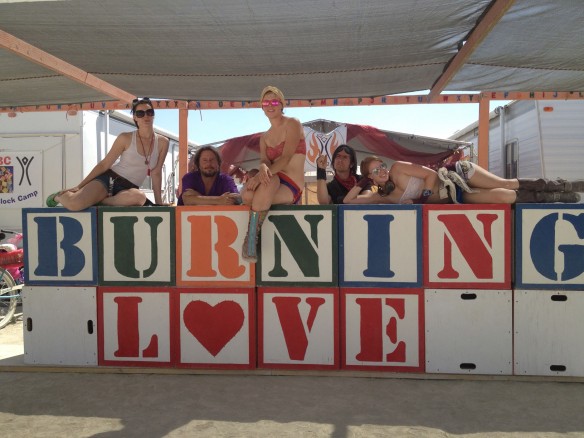 THE GUEST LIST:
There were many people that couldn't make it—and there's the cosmic rub with a playa wedding—but there were many surprising people that did.  Among Jason's grade school friends (a friend he knew since kindergarten happened to be camping down the street from us!) Jason's brother Jeff made it to the burn just long enough to see us get married, and I had a bridal crew in camp that took care of me.
Of course I would have loved to share my favorite time with some more of my favorite people, but I don't regret anyone not being there. And there's no guilt about inviting certain people, or frustration if they actually show up.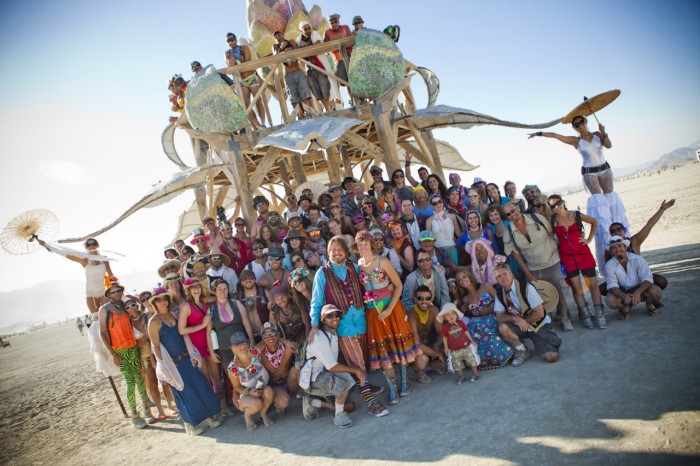 photo by Blake Gardner
But back to those friends who did come: they are adventurous enough to even consider journeying out to the playa. I like to think that our wedding is an opportunity for them to discover new parts of the world and new parts of themselves.
And then there are the campmates: I've only known these people for a few years, but they truly are my Post Nuclear Family. In fact, we only met Mary and Eric 8 days before the wedding, and Eric signed as witness on our marriage certificate! In true playa-magic fashion, we were serenaded by a friend-of-a-friend who had attended the wedding. All week long, we were surrounded by friends who were excited, supportive, and super helpful. They are always that wonderful, but I felt like it was more intense as the wedding got closer. Old and new friends, they have been with us through some magical moments, and I couldn't imagine getting married without them.
THE LOCATION:
A lot of couples choose the Temple as their location, and while it's always filled with love and beauty, the Temple doesn't speak to our us-ness. Instead, we held our ceremony at the Bottlecap Gazebo / Lotus Pavilion, which we picked once we arrived on the playa. It's a good idea to check with the artist before inviting 100 people to show up (mostly to make sure that the art won't have been burned before your ceremony!).
Even though it was perfect, we kept our eyes open for another location, just in case there was a place that was perfecter.  But the Lotus Pavilion kept coming back to us at all times of day.
And dusk.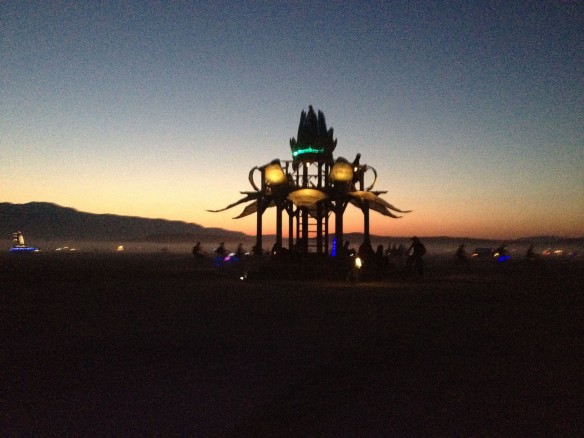 And night.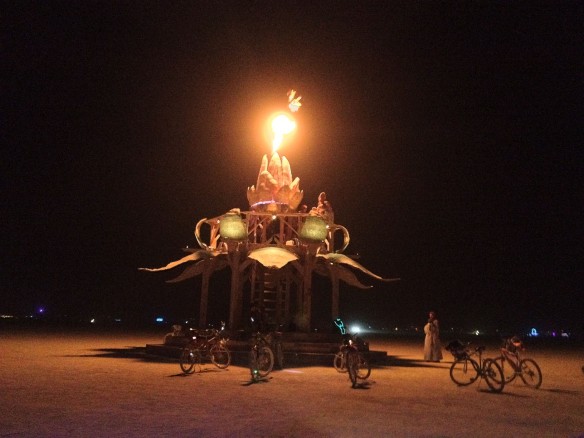 We were lucky to find the pavilion along the spoke that led to our camp, so it was easy to get to.
TRANSPORTATION:
We had all guests meet at our camp (conveniently most of them were camping with us). Jason made sure to register our camp and ourselves with playa info near center camp, and we coordinated our marriage to be at the same time as our radial camp location: 4:45pm.  (We camped at 4:45 and "E").  That way when we saw people along the day, we could tell them "4:45pm on Saturday.  Meet us at 4:45pm and E."  Not everyone will get this lucky, but if you plan for luck it seems to happen.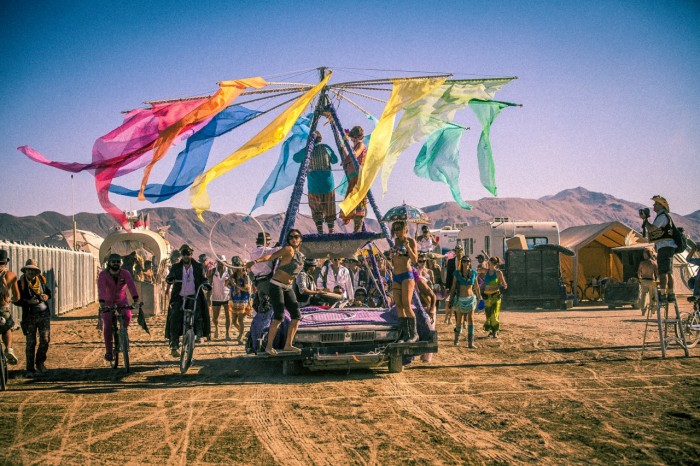 photo by Aleck Gandel
In true Burning Man / New Orleans fashion, we paraded to our wedding site. Our camp happened to be filled with musicians, stilt walkers, yogis and yoginis, and wonderfully strange mutants so our parade was awesome.  Best Man Cosmo drove the Sensatron with Rev Shawn T-Bone Taylor riding shotgun. A trio of drummers played on the back, while Jason and I rode alone up top. We were surrounded by a procession of our entire camp and many new friends on foot and bike. Some straggler strangers joined in, but for the most part our parade was comprised of old and new friends, and all loved ones filled with lovey love-love love love.  Love.
A couple friends rode up ahead of us to prepare the Gazebo before our arrival, so that there was a space for us to stand and everyone already hanging out there knew what to expect.
THE CLOTHING:
I've written separate posts on my "wedding dress" and Jason's awesome alternative to a tuxedo. There are couples who adapt traditions to suit themselves and the playa, but more important than wearing the "right thing" is to wear what's right for you (just like wearing any outfit at Burning Man). This is one of the most radical opportunities for radical self-expression!
Another benefit to a wedding on the playa is that everyone isn't dressed up in the same drab fabric.  We told our friends to wear their favorite color and we all made a brilliant rainbow.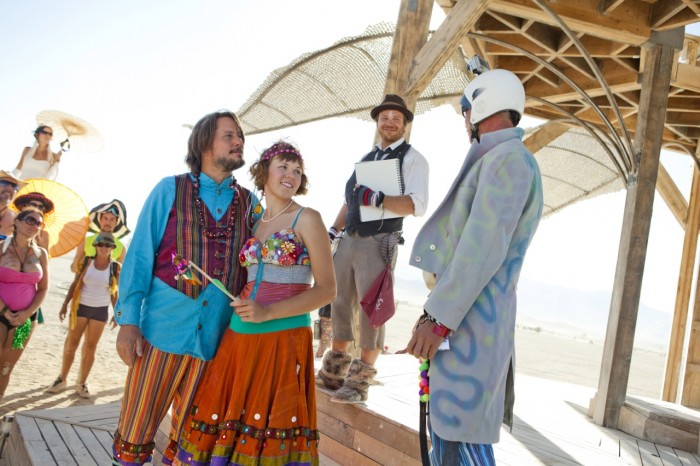 photo by Blake Gardner
After Burning Man, we held two receptions to celebrate with our entire crew of burners and non-burners. One was held in Los Angeles a few weeks after the wedding, and then we drove to New Orleans to celebrate with more friends and family who weren't able to travel cross country. Because we'd already been married for weeks, there was little pressure on the receptions, so Jason and I were able to relax and enjoy the parties. This is a great opportunity for burner couples to follow any traditions that maybe didn't make it out to the playa, like caterers and wedding bands.
Because we were responsible for making our wedding, and responsible for whatever we want to happen on the playa, we only made what we wanted to happen. A wedding at Burning Man can be liberating, exciting, and mostly stress-free.
If anyone has questions about our wedding or advice about your own Burning Man wedding, go ahead and email me and I'll try my best to help. If you'd like to see more of our wedding, you can watch Jason's awesome movie about it.
Maria Mango – Oh My! from Jason Siadek on Vimeo.
Psychic (Black Rock) City – Yacht from Jason Siadek on Vimeo.