My computer has recently revived from a 3 week hiatus, and yet I'm still just using an old post. Haven't got quite everything back up and running, and the laptop was really just an excuse to not blog. Maybe I'll write about it later, but does anyone really care? Long story short: I'm busy sewing all day, working really hard, and also prioritizing my time off. I haven't really done any personal sewing, and I'm waiting for photos on several large projects for clients. Theoretically I'll be able to post every day in May.
So in the meantime here's a post that's all about eventually getting things done. Pictures were taken in July 2014, when I had an incredibly short cut and was still deep in platinum mania.
Happy birthday to meee… from 2013. I bought this fabric as a birthday gift to myself, but between other projects and design uncertainty, wasn't able to sew it up until 14 months later. Luckily it was worth the wait!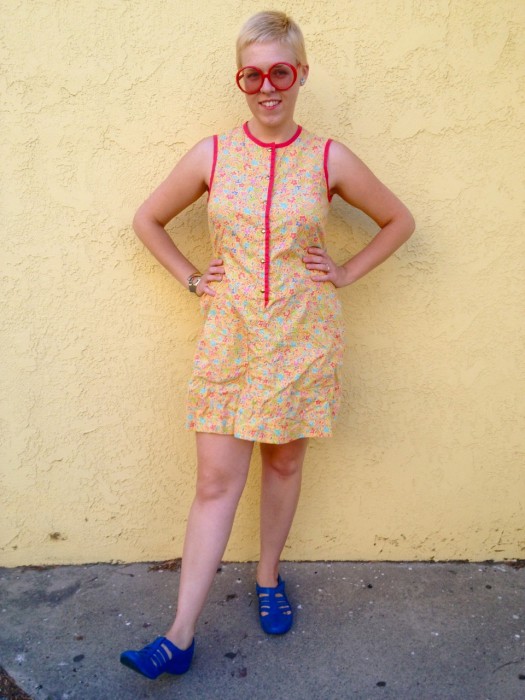 The yellow floral poplin in from the Lisette line at Joann. I immediately fell in love with the color combination and the paisley-inspired print. But it was that print that got me turned around. Brightly colored flowers… would that be too juvenile? I hate the idea of being 'cute' or saccharine, and so the fabric was folded and left in my cabinet…
Would I use a Laurel-esque shift pattern (this was right around the time that design was sweeping the blogosphere)? What about a vintage sleeveless dress? Maybe I should copy a 2005 H&M shirt dress I still wear: even with the heart print and slightly puffed sleeves, the sleek seams and short hem made me feel powerful.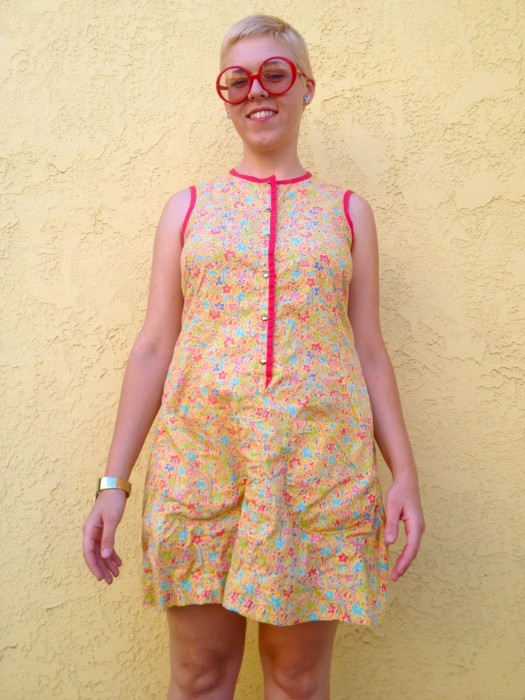 In the end, I combined all these elements. I made a complete pattern of the H&M dress, but eliminated the sleeves and collar. I used a placket inspired from my vintage pattern, though I constructed this one myself. I copied Laurel's clean neckline, and from there added my own details.
The raw edges are serged and topstitched. The neckline and arm holes are bound with self-made bias tape, which I sewed on the front using my machine, and then whip stitched the inside and back.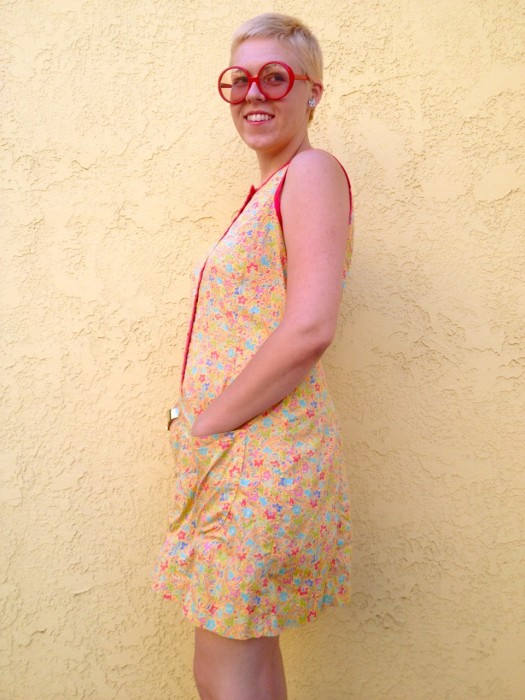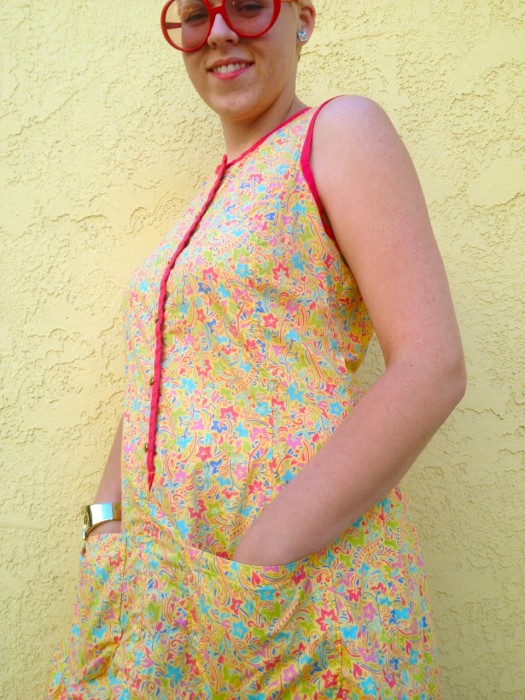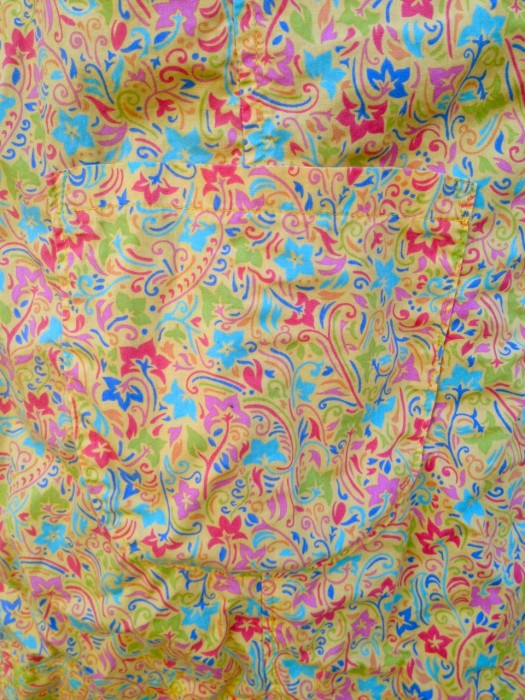 I feel like the coral binding creates a neat outline for the wild print. The mustard thread for the buttonholes doesn't actually match any of the 7 colors of the fabric, but it still felt like the right choice. And the gold shank buttons… somehow, I didn't even consider that option as I imagined the perfect buttons, but they jumped out at me as I was browsing the Dill racks.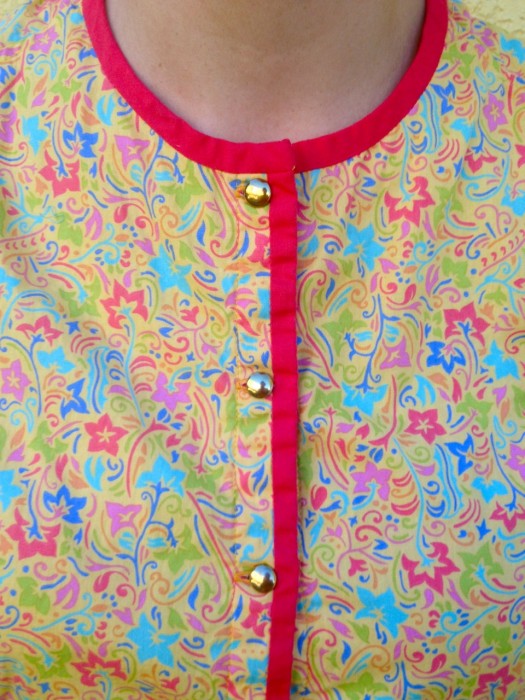 It's been a great summer dress so far, and of course it will do well in cooler temperatures with a cardigan and leggings.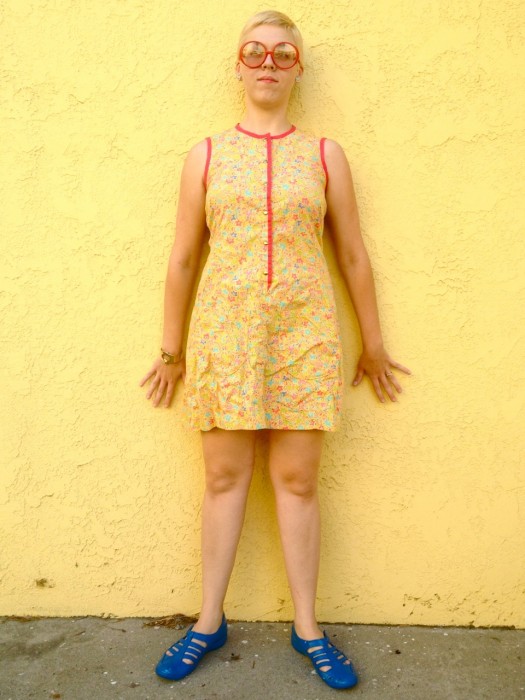 I already bought fabric for this year's birthday dress. I'm not sure if I'll have it done in time (3 weeks!) and I'm not even sure what design I will use. Perhaps I'll make a blog post all about that… I should have it published in about 4 months!