You've already seen the boots I wore for our wedding at Burning Man 2012, and now here's more of my outfit.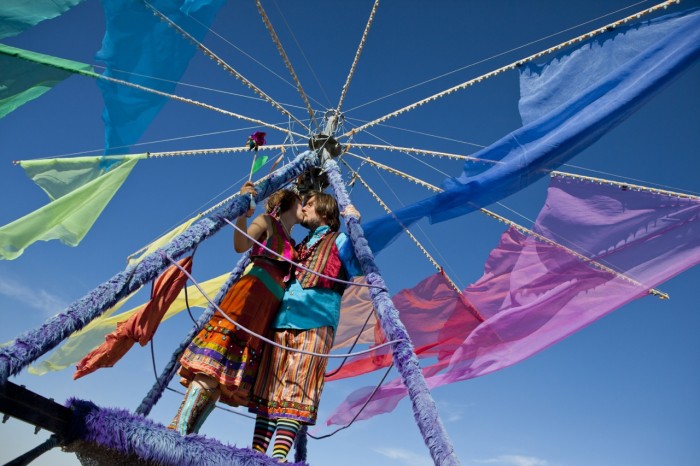 When we got engaged in 2011, I really had no idea what I wanted my wedding clothes to look like. I've never worn white, and we have no traditions to honor, so I was free to wear whatever I wanted! The main idea was to dress as more fabulous versions of ourselves.
First the skirt:
The body of the skirt is a dupioni silk. On the bolt it was gold with a red tone, but once I threw it in the washing machine to get that gorgeous drape it turned into a pumpkin. Go with the flow, right?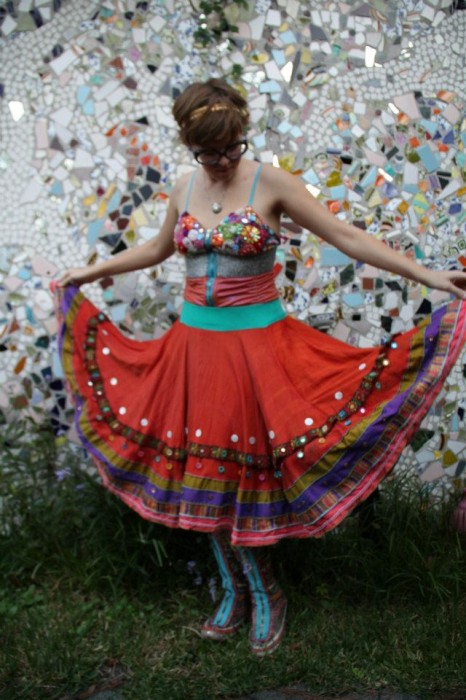 photo by Alex Finseth
Instead of just one circle, this skirt has 1.5 circles to it. It's divided into three panels (each a half-circle), with a center seam at the back and pockets in the front/side seams. It has such beautiful fullness when I twirl in it, and is delightfully extravagant. In order to get an even hem, I let the cut skirt hang for about 4 days, and then had my friend Danielle mark the hem line while I stood on a table. I usually try to do this myself, but I was not cutting corners with this outfit!
The waist is an elastic band in modal jersey–comfortable against bare skin, stays up fine without pinching into my belly. And no zippers to break! [The playa dust at Burning Man can be very harsh to fine devices like zippers]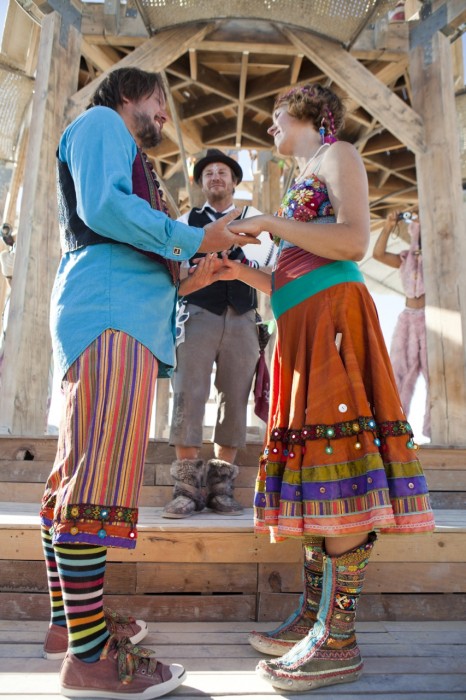 photo by Blake Gardner
The stripes at the bottom are finished with a rolled hem on my serger. Most of the fabrics were random remnants, and my favorite band is the gold stripey fabric that matches Jason's pants.
The mirrored shisha trim is from India. Anticipating the hanging mirrors to not hang for very long, I restitched every single one of them. It was a nice little project that I could pick up for 5 minutes at a time, and it took about 6 weeks of very casual work. And then… the green and blue dyes bled all over the skirt! I actually don't mind, although I was kinda stressed when I first discovered it.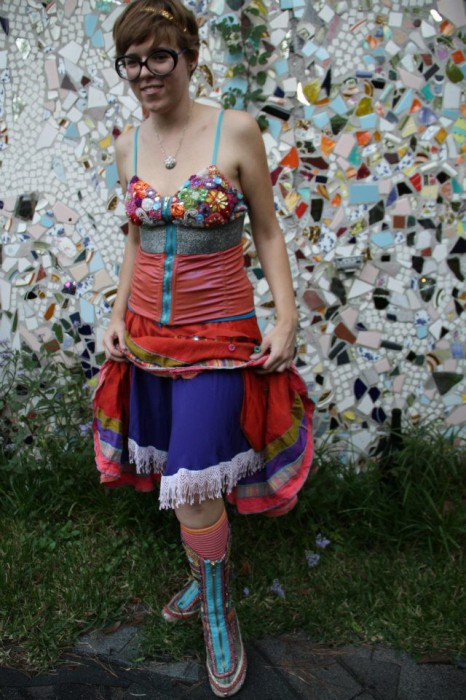 photo by Alex Finseth
It wasn't really necessary, but I added a silk charmeuse lining. It does feel so fabulous against my skin! Since it isn't visible, I made the slip as just a single circle. As a wink to traditional bridal white, I added the lacy fringe that can only be seen when I pull up my skirt.
BODICE: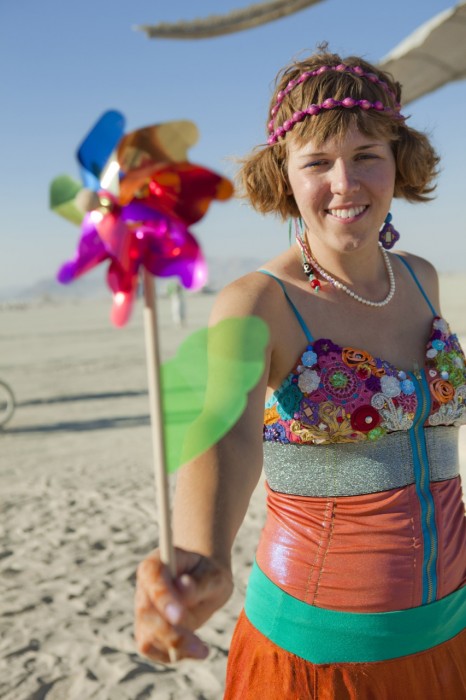 photo by Blake Gardner
The original concept for the top was "rainbow bustier," except it had to be a comfortable bustier! I had to be able to sit, and dance, and breathe all day and all night. The main fabric for the bodice is a metallic lycra, and I don't mind admitting that I never thought I'd wear lycra at my own wedding. The torso is lined with purple modal jersey, and the bust is lined with black and white striped jersey.
To give some structure to the top I inserted plastic boning, which also prevented the chunky zipper from getting wavy.
The bust appliques were all sewn by hand after I completed the basic construction. I pinned each piece while I was wearing it, then stitched them, then pinned on some more. There's no way to convey how time-consuming this was, but I had so much fun. I worked on this in private, so Jason didn't see the top until it was mostly complete. Flashy rainbow boobs, I never would have planned on this but it was so perfect and made me so happy!
ACCESSORIES:
I went back and forth on a veil. Traditional bridal white was never a thought, but I like the drama of a gorgeous headpiece. I wound up adapting one of my recycled Mardi Gras necklaces into a headband, adorned with charms I made. The fringe bead is just that: fringe wrapped around a bead! I've since worn the headpiece as a necklace, which happens to be irresistible to babies.
Jewelry was simple: glass stud earrings Jason bought me earlier in the year, and a pearl necklace that my grandma gave me (and my lady cousins) for high school graduation. I also had my right hand covered in henna by a lovely lady who was camping next to us (while I was swinging in a hammock sipping juice from a coconut, no less!).
During the parade, I wore a rainbow vest. You can see the front and back in these photos, but I think I'll do a separate post on it, since I didn't make it specifically for the wedding.
I also wore sparkly silver hotpants, which I have since worn as bikini bottoms. No pictures from the wedding though!
This hasn't happened yet, but my idea was that I'd be able to wear each component after the wedding. Someone's got a birthday coming up and might wear her wedding dress to her own party!
photo by Dan Hamilton
If you'd like to read more and see more pictures from the day, we have a whole post about getting married at Burning Man.
You can also check out pictures of Jason's groom outfit.
Most of these gorgeous pictures were taken by Blake Gardner and Aleck Gandel – many thanks to these talented photographers as well as all the friends who both captured and contributed to our wonderful day! K Alexander took the pictures in front of the glass wall at the Abita Mystery House.