I've really loved getting comments from other owners of the Pfaff 1222E. There's nothing quite like "I've had this machine for 30 years and it's never let me down" to really make you appreciate a well-built tool. If you're interested in learning more about this machine, check out my other posts on the Pfaff 1222e: my initial review, and an update on the machine with tips on finding feet and extensive comments!
If you're having problems using industrial cone threads or home-sewing spools on your vintage sewing machine, I have a bit of advice on threading and tension techniques.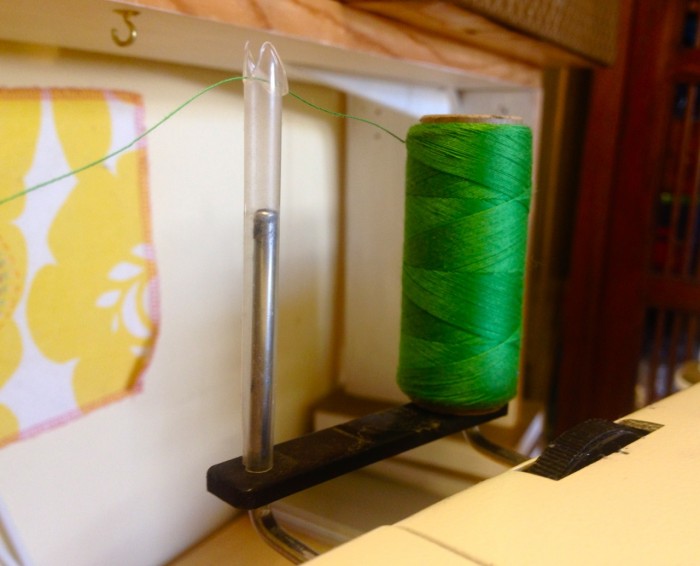 When the machine was new-to-me and I was using spools on it, often the thread would get caught on the rod that the spool spun on. From a long-forgotten website I got the advice to set my spool on the right rod, and to create an additional thread guide by putting a cut straw on the left rod. I cut a groove to hold the thread and melted the edge with a lighter to lessen the friction.
I use this technique with every single spool. and it definitely helps the thread flow through the machine.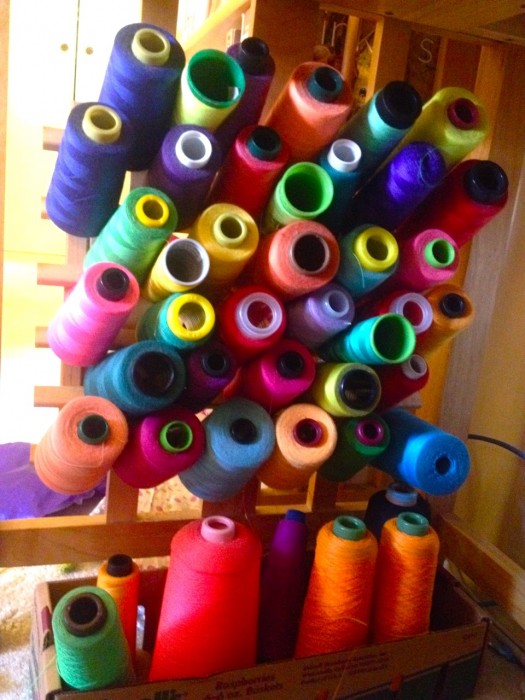 For those unfamiliar, cone threads hold 1,500+ yards of thread, whereas spools hold 250-500 yd. Since sergers use so much thread, it is much cheaper to use cones on that machine, and it's simpler for me to have mostly cones instead of matching spools. In LA it's easy to find inexpensive cone thread. You can even get factory overstock: for $1 you're getting at least 500 yd and sometimes even 3000. The selection is a grab-bag, but I always check to see if any of my most common colors are in the bins (all but 4 of the above cones were purchased for $1 or less).
I prefer to use cone threads for my home sewing machine, but they present a challenge with threading. Where does the cone go so that the thread doesn't get snagged? There are stands for cone threads available, and they work fine, but I already have enough stuff on my sewing table.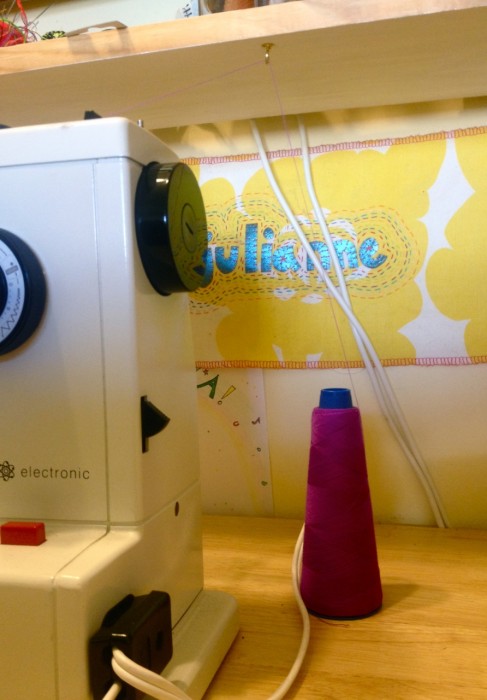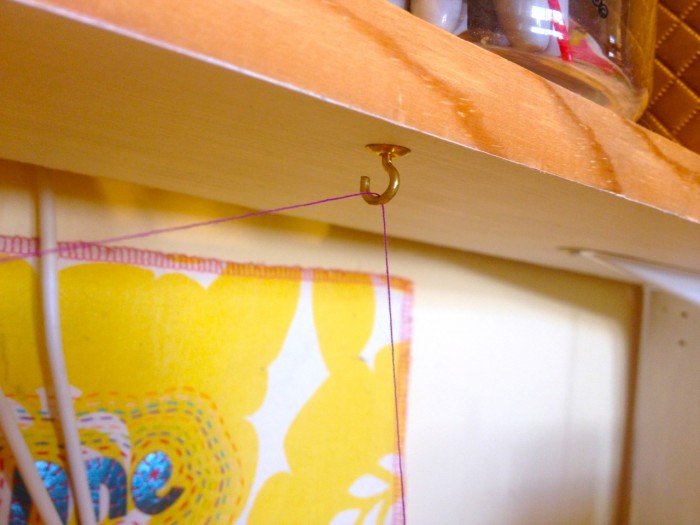 I have a handy shelf above my table, and all I did was screw a hook into the underside. The cone sits on my table (and gets knocked around sometimes, but it doesn't matter). The thread feeds up into the hook, and then into my machine at the same angle as a smaller spool would.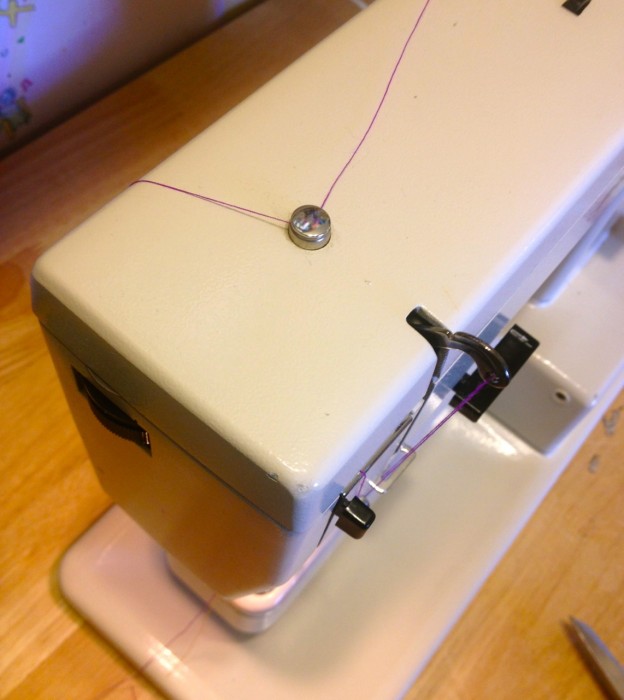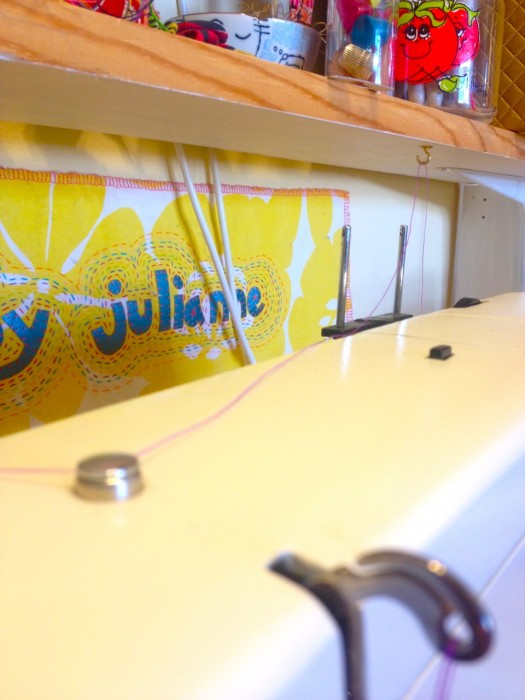 Because the cone doesn't spin, the top thread often doesn't have the same tension as if I were using a smaller spool. Instead of dialing my tension knob up to 10, I just loop the thread around the bobbin guide and I'm good to go!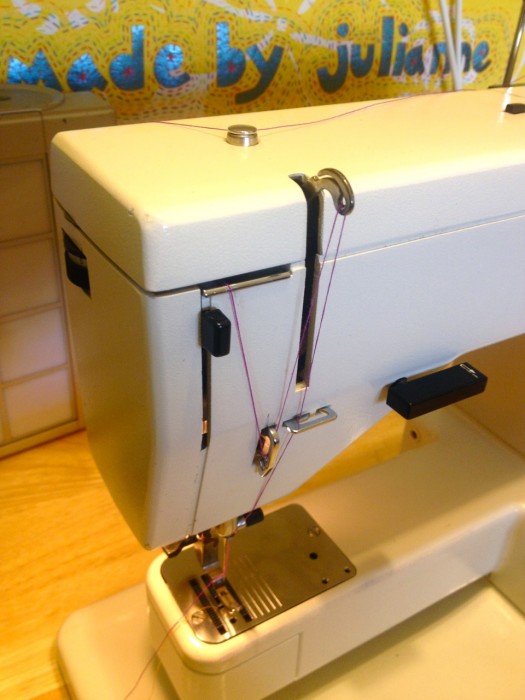 At a recent sewing meet-up, Sandra adjusted the tension of my bobbin. She says that you should be able to hold the thread tail and hang the bobbin without it rolling out.
Different threads have different tension requirements, and your fabric and needle type can also effect the quality of your stitches. All these variables can be overwhelming when you're learning to sew, but over time they become second-nature. Happy sewing!