It's a cross between a pillow and a pouf, which I suppose makes this creation another tuffet! My friend Mary requested a rainbow pinwheel pillow, and I eventually obliged.
It's made entirely of scrap fabrics. The triangles were sewn together, and then topstitched onto a backing of blackout fabric (it was the right weight and I had 2 yd lying around).
The trims were all in my stash as well. And even stash-bustier, it's stuffed with shredded fabric! There's a tiny bit of mystery poly-fil in there as well.
The shredded fabric was all diverted from the trash can: ugly or tiny scraps that I cut into ~2″ squares and tossed in a bag over the course of a few months. It builds up really fast! However, all that fabric is HEAVY, so this wouldn't make a good stuffing for your bed pillows, but maybe for plumping up seat cushions.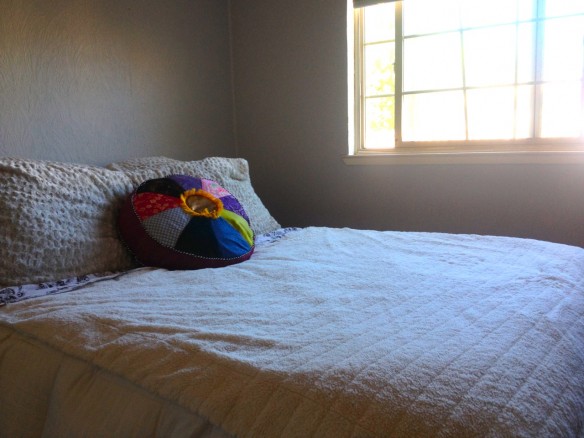 Mary just graduated and moved up to Santa Cruz with her fiance, and I finished it in time to give her as a going-away/congratulations gift.
I've been non-stop busy with work, but either it's not interesting enough for a blog post, or it is but I signed NDAs, or I haven't had time to post it!