When my lovely friend Gigi came to visit us in March she wowed us with the vegan quiche she whipped up. I've been spending a lot of time in the kitchen so I decided to try my own.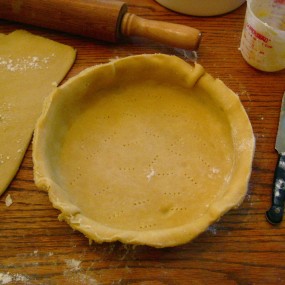 My I got my crust recipe from my mom:
2 1/4 C cold flour
2/4 C shortening
7 T ice water (possibly more)

1 t salt
Mix flour and salt; cut in shortening. Add ice water 1 tablespoon at a time, mixing with a fork or beaters. When the dough is mixed (it may still be crumby) roll it onto a floured surface. Fold flattened dough in half, roll out, fold again, and continue about 4 times. Roll the dough about 1/8″ thick and press into pie pan. Trim the crust and poke with a fork. Prebake at 375º for about 15 minutes. Continue reading →
I've seen lots of different recipes for the filling, but this one is a combination of what Gigi used and what we had in the fridge. All of these measurements are extremely approximate.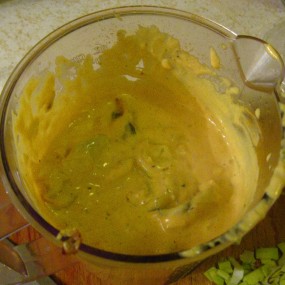 Blend:
1 14-oz pack firm tofu
1/2 C plain almond or soy milk
1 T turmeric
1/2 T paprika
Use either a blender or food processor. Don't be afraid to the let thing run as long as you need to make sure everything's smooth.
Sautee:
(in olive oil or margarine)
1 leek
1/2 onion

1/2 lb oyster mushrooms
shallot
garlic
Mix the tofu and the sauteed vegetables and pour into the pre-baked pie shell. If you want to be fancy, top the custard-ish mix with some slices of red bell pepper. One could also sprinkle a colorful spice, namely paprika, although I would recommend stopping short of actual rainbow sprinkles.
Bake for 45-60 minutes at about 375º. You'll want to let the quiche set for about 10 minutes before cutting into it. At this point, it will be pretty deliciously gooey. If you've got any leftovers they will be firmer after sitting in the fridge for a few hours, and it tastes wonderful eaten cold.
There are no photos of the cut quiche on our plates because we were too excited to eat it all up!
If I'd rolled it out thin enough, I could have used the dough to make two quiches. There was certainly enough filling to split between two pies. But I really like my dough thick, and with the excess dough from the single quiche I made a little apple pie for a surprise dessert.
Needless to say, the entire meal was delicious!