Jason picked out a very comfortable sofa for our apartment, and he did it as a bachelor. It's good for lounging, and when we remove the pillows it's as wide as a twin bed (for guests!). It's even got sleek lines, and no extraneous "design details." But it's tan. I was overjoyed when he spilled soy sauce on it one night, because I officially had license to recover it.
All these fabrics were freeeeeeeee. The gorgeous hand-woven top was a gift from my step-sister-in-law Ilaan. The green velvet piping and fuchsia were just taking up space in my fabric cabinet (and were free remnants from my days at Fabric Planet). I probably payed for the cording inside the piping, so this cost maybe $2.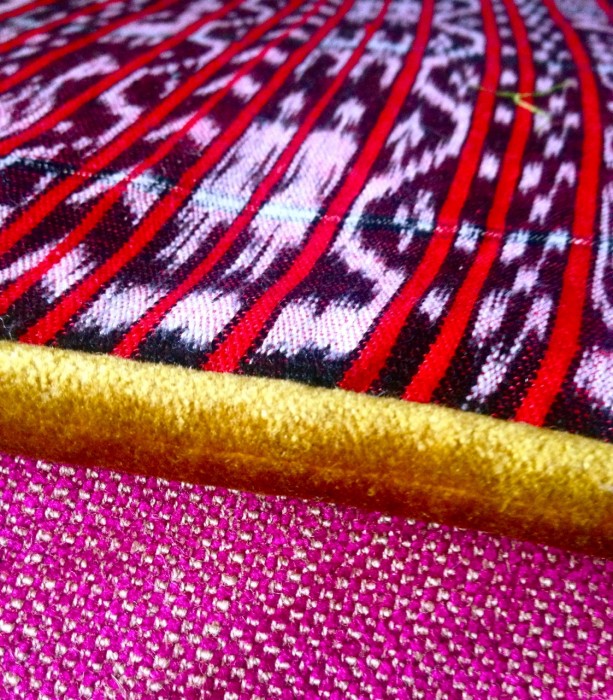 I know from experience that getting a large cushion into a cover is a pain in the ass, and even if you only have to do it once why even bother? So I made this cover like a fitted sheet, but instead of elastic at the bottom edge I used a drawstring so that it can't come loose. The underside of the cushion is still the tan microsuede, and that's fine. Since this type of cover is easier to remove and replace, I'm more likely to wash it when it gets dirty, and it used half the fabric since I only covered one side.
The back pillows are covered in an aqua linen that showed up one day, I honestly have no idea where 5 yards of bright linen comes from but I'm not questioning it (I also used this fabric for Jason's wedding shirt). I did buy the yellow pompom trim from Joann's, so the pillows cost $4. The long zippers were also in my stash, which is why they are baby pink. But who cares?
I left the back pillows in their original cases, because I should probably not throw them out and where would I store them? At some point I should re-wrap the pillows (foam cores covered in batting and filling) because they get awfully saggy after a couple days.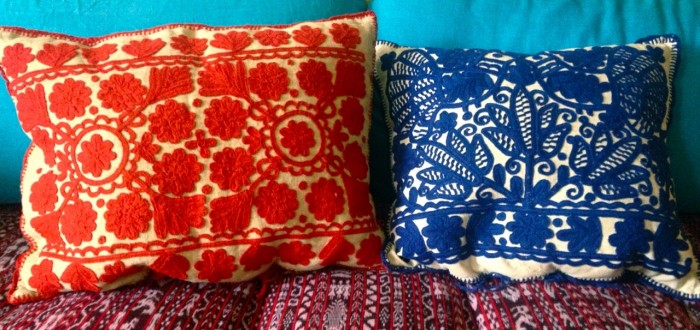 We've also covered the sofa with some pretty rad pillows. These two covers were handmade in Hungary and cost about $20 each. Adding to the sentimentality, the pillows themselves were given by Medora when she left for her first backpacking adventure.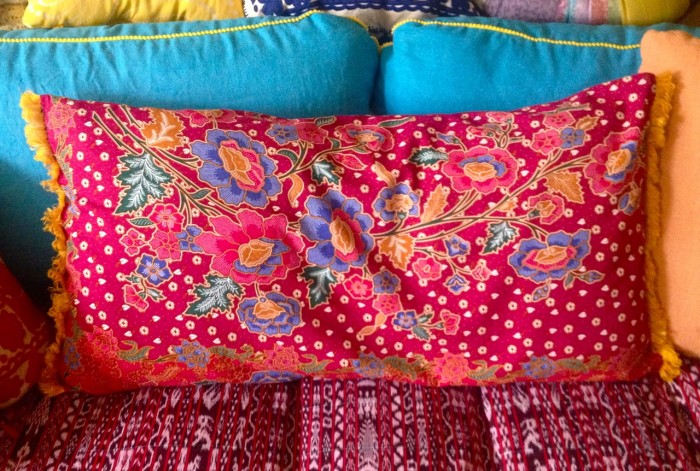 This gorgeous printed cotton came from our friends' honeymoon in Malaysia. The fringe and invisible zipper were from my stash. I'm pretty sure this is the nicest body pillow on the west side.
This pillow was also a stash-buster. I bought the fabric in New Orleans in 2006; the pattern reminds me of Mardi Gras beads. Fun story: I was on the phone with a friend who left from El Segundo to come to our house in Mar Vista, and during his transit time I made the pillow from start to finish. About 20 minutes. So this pillow is the "Cosmo's coming over!" pillow.
My wonderful round rainbow tuffet was made in New Orleans in 2007 using scraps as well. It's firm and great for sitting on the floor.
I also made a fitted sheet for when guests sleep over. The blue seersucker came from my grandma's fabric stash, although I think I bought it for her years ago.
So now you've seen my couch! It's great for lounging, and napping, and has played host to many friends and wonderful conversations. I can't tell you how gratifying and meaningful it is when Jason's old friends come into our home and remark on how cozy and beautiful our apartment is looking nowadays (not that Jason didn't have the apartment looking nice on his own, but he's given me free reign to add my own sense of style).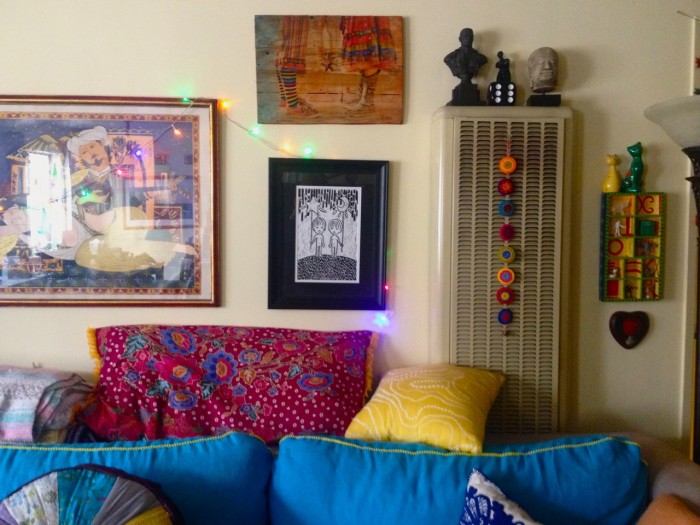 It's so welcoming to open our front door to this comfortable rainbow!