At a recent sewing party I got a copy of Twinkle Sews, and was instantly drawn to the chic and effortless style of the Cool Contrast Tee. The pattern calls for chiffon as the main and lining fabrics, but I knew that this design would be a great stash buster. Since I didn't buy any fabrics and the book was a gift, this blouse cost me nothing.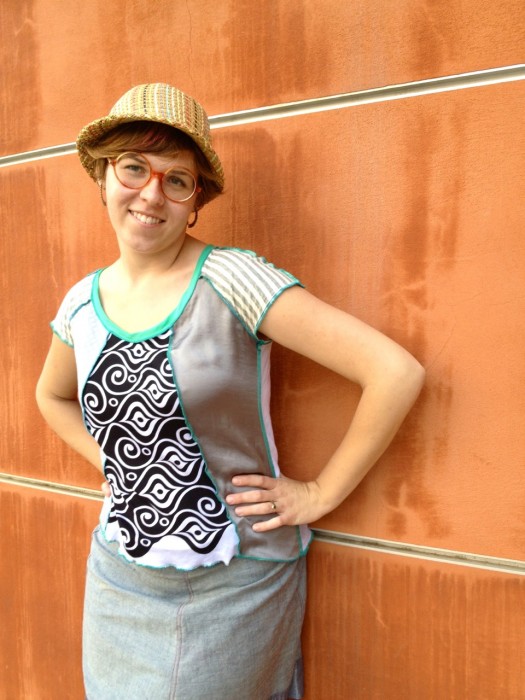 I've always been intrigued by achieving rainbows beyond ROYGBIV, via texture or pattern, particularly in black and white (I have sketchbooks filled with luscious pen and ink drawings). I was very excited to use so many of my colorless scraps in this top.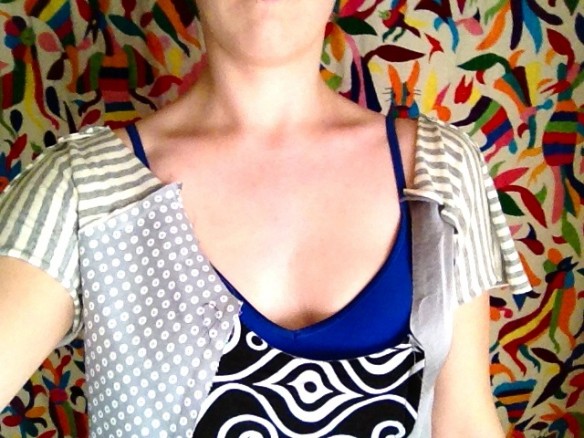 I cut a size 8, which seemed pretty true to my measurements, although of course there were fit adjustments. Since I used so many different fabrics of varying weights, it's difficult to make any fair judgments on the pattern. It was definitely too low and wide at the top. I took in all the seams about 1/2″ which helped with the gaping at the front and back. If I were making this again, I would add 1″ to the front pieces; the back is fine. The only version of this top confirmed my suspicions that the hemline is way short, so I lengthened the pieces by 2″ at the bottom.
I omitted the band at the bottom. Since I added length to the panels, I didn't need the band for modesty. But my main reason that I left off the band, and usually do, is because I feel that the bright horizontal stripe across my hips makes me look way wider than I normally do. It's calling attention to the widest part of my body, and while I'm pretty comfortable with my shape I don't feel like that's a flattering look on me.
I love the princess seams and raglan sleeves–all those seams make fitting very easy! To showcase the style lines, I opted for exposed seams, which I serged with teal threads to tie in the sea-foam bias tape at the neckline.
I'm happy with this blouse, although I had a hard time figuring out what to wear with it. Pants might be better than a skirt, but we were spending the day walking around UCLA and Westwood, and I wanted to catch the breeze. I'd like to see the pattern made entirely in knits, as well as the double chiffon suggested by the book.