I feel like after three years, I'm finally starting to find my place in Los Angeles. I've made several new friends lately, and work is going well. And there's nothing like taking a day off to spend some quality time with some of your favorite ladies in a Korean spa to make you feel optimistic.
Yesterday I attended a sewing meet-up at Caroline's beautiful home. I was so excited to meet other sewists! The ladies behind Lolita Patterns were both in attendance, working on their new dress design. It turns out that I am their sample size, so they may use me as a fit model, which would be awesome!
What would any congregation of sewists be without a swap? Since I regularly donate my unwanted bits to the Boys and Girls Club, I didn't have much to give away. Our host Caroline is a book agent, and we all scored some amazing sewing books and patterns. I can't wait to dive into these!
In other news, I'm almost finished with the tutorial for my genie pants! Everything has been sewn, photographed, and written, but I just need to integrate it all into a cohesive instruction sheet. So keep an eye out this week.
Why the delay in the tutorial? Last week I finished an order of 10 bike seats for Jameson Whiskey for the Las Vegas St. Patrick's Day parade, which I will hopefully get pictures of. Each color required multiple coats, and like I said, there were 10 seats. My hand was aching so bad from gripping the tiny brush that it actually kept me up at night. Luckily I'm OK now.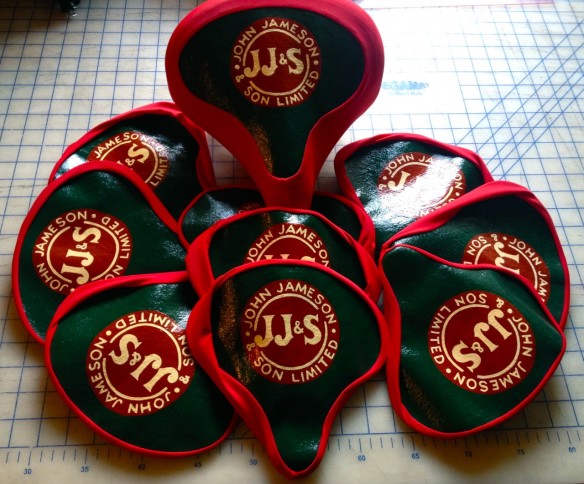 I also just finished making curtains for Throop Unitarian Church in Pasadena. It's a beautiful old building, and I found a gorgeous embroidered canvas. Minister Tera wanted to brighten up the wood-paneled tea room, but we had to choose a somewhat neutral fabric, as this is used as a dressing room for brides.
I also made black-out panels to really keep the sun off the baby grand piano.
This upcoming week will be even busier. I'm working on a set of PJs, 11 pillows, patching 4 pairs of jeans, replicating a chef's coat and pants, and sewing coiled bowls. And of course I have lots of personal projects that need attention. I stopped drinking HFCS a few weeks ago, but I might need a Dr. Pepper and plate of fries to help me cope.