Well who doesn't love peacocks? They are bizarre and unpractical but absolutely mesmerizing, and talk about that color scheme! They're the perfect subject for a new edition of removable bicycle saddle covers.
Yes, all five are hand painted on recycled canvas. They are coated in a UV-proof and durable glossy sealant. The sides are made out of a spandex that has a slight sheen to it.
I had a lot of fun painting all of these together. I was constantly mixing paint to create the luscious colors, and it was fun to re-interpret the designs of the tail feathers every time.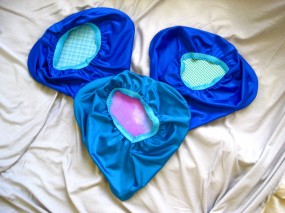 All of these seats are finished with lacy underwear elastic. It seems to me that the underside of the saddle is your bicycle's panties!
I think any of these seat covers would look awesome on bikes that are blue, green, yellow, white, or even purple.
These seat covers are up in my Etsy shop right now!