Isn't my husband so cute? We took these pictures at LACMA's Stanley Kubrick exhibit, which was very cool.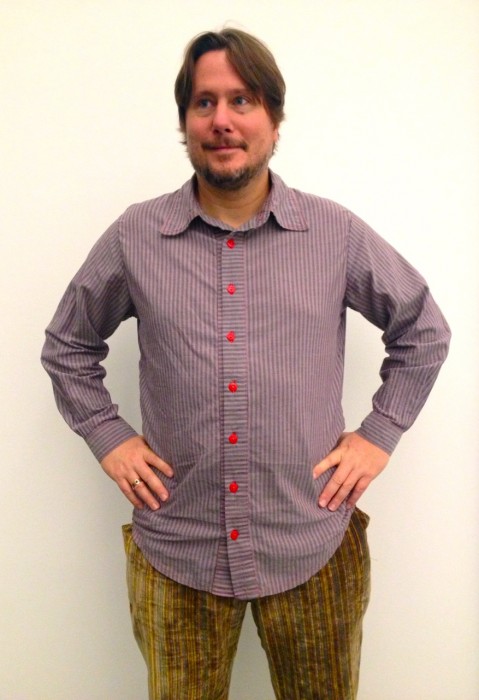 Jason's office is creative and casual enough that he wears a tee shirt just about every single day, but I decided that he needed a new button-down shirt anyway. Sometimes a tee shirt doesn't cut it, but he should still be able to dress a little fancy (by which I mean different, and often in strange patterns).
I used Simplicity 5366. The pattern's measurements classified Jason as large, but I wound up taking the whole shirt in to a medium. I found the cuff placket to be a little confusing (it was my first time!), but otherwise the shirt went together very easily and rather quickly.
It was really satisfying to just cut out a pattern and make a shirt, with no modifications or major design decisions. Almost automatic. This shirt wound up being the wearable muslin for Jason's wedding shirt, which will eventually be posted…
My beloved Pfaff doesn't have an automatic buttonhole feature, but I honestly enjoy taking the time to make the buttonholes manually (but still on the machine). Obviously I have much more control, and I was never completely satisfied with that function on my Singer. I hardly ever need buttonholes anyway.
At some point I will make the western-style version of the pattern. I might try Collete's Negroni some day, but Jason hardly wears this style shirt as it is, so why invest in a collection of patterns?
I made his pants too, from a very soft upholstery velvet. Maybe one day I'll get a post just for those.