This hand-made tie dye looks like a cotton candy nebula, which is exactly what I wanted. The vintage fabric was gifted from a friend of my husband's family, and there was just barely enough to make this reverse pleated dress. It's a lightweight cotton, and I love that the colors hide all those unsnipped threads and potential little stains.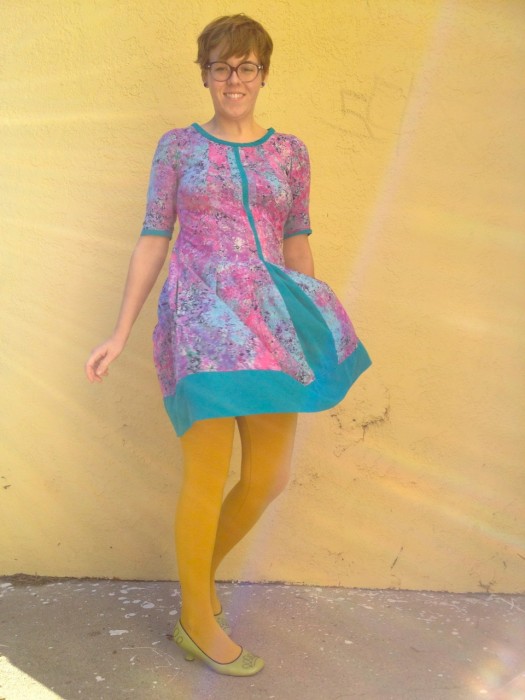 The teal rayon was from my grandma's fabric collection, so the only material purchased for this dress was the pattern ($5.40) and the zipper (~$3). Stash busted!
I started this dress one afternoon, wore it sleeveless and unhemmed to dinner that night, and finished it the next day. It was a great non-traditional Christmas dress, and I can't wait to wear it for a bike ride!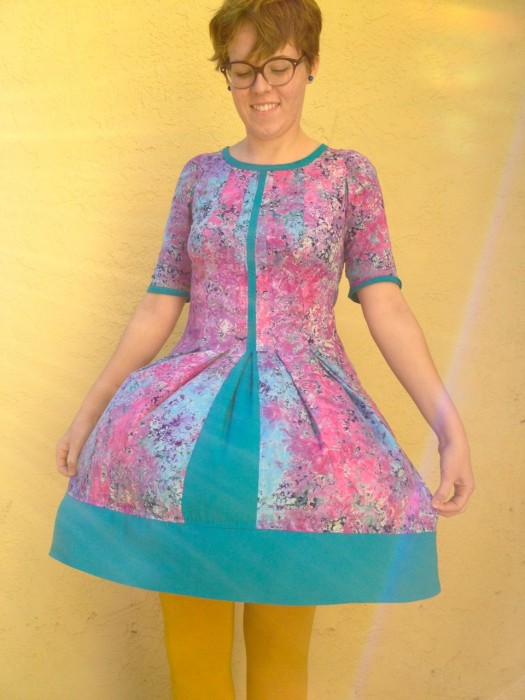 About the pattern (Burda #108B). I rarely use patterns, and find it difficult to follow someone else's instructions. But I managed to make a dress that pretty closely resembles the original. The reason for the teal stripe is that I didn't have enough of my tie dye, or so I thought, because it turned out that the pattern is huge! Following my measurements, I cut out a size 40/42, adding seam allowances. I had to remove about 8″ from the pleats and side seam (which was more towards the front of my body). I was able to do some shaping through the pleats, which are designed as unflattering straight lines on the pattern. Also, the back gaped horribly at the top. I lowered the sleeve cap and added some width to the back shoulder. Aesthetic changes are fine, but I was surprised at how many changes this pattern required for a comfortable fit.
I thought about leaving the dress sleeveless, because it fit so nicely and looked great, but in the end I'm really glad that I added sleeves. And I'm proud that I was able to get such a great fit with the woven sleeves!
The seams are finished on my serger, and I trimmed the pleats with pinking shears. The pattern calls for leaving the folds untrimmed, but there was so much extra fabric in there!
Aesthetically, I extended the pleats about 1.5″, so that the fullness was released at my hips rather than natural waist. Obviously there is that teal inset, which was functionally inspired but I totally love now. I lowered the neckline in front and back, replaced the facings with bias tape, tapered those dumb bell sleeves, and added the contrast band to the much shorter hem. Also, of course, pockets!
The pattern reminded me of Mad Men fashion, mostly Allison's gorgeous party dress.
I was concerned about covering too much skin and looking frumpy or juvenile, but I also didn't want to show too much skin or look too Molly Ringwald (not that she's a skank, but I don't want to dress like the decade I was born in). Luckily my husband was on hand to help me with design decisions, and it turned out great!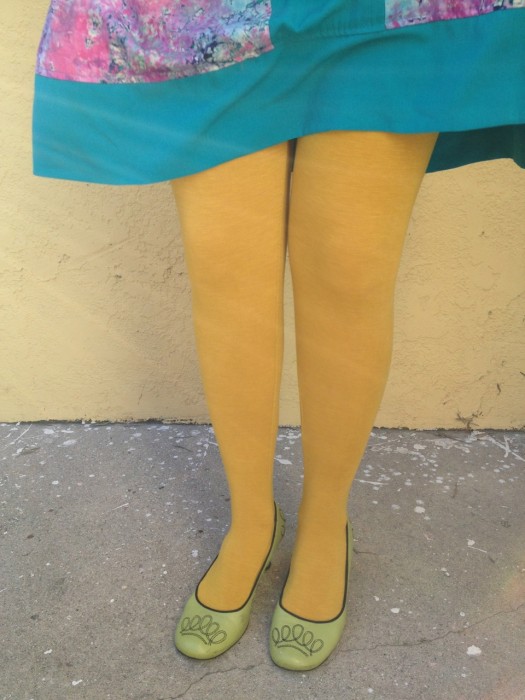 I made these stockings too, from a luxurious silk jersey. I'd cut a dress out of the fabric, but never felt passionate enough to actually sew it together, and so I cannibalized the dress for some new stockings in my favorite color.