One day at work, right before Halloween, my boss said that she needed me to make her a headpiece to go with her black and red burlesque costume. So right after eating my avocado sushi I whipped this up for her. I should point out that she is wearing a wig for this.
I was definitely inspired by my friend Inessa, who makes awesome costume pieces all the time.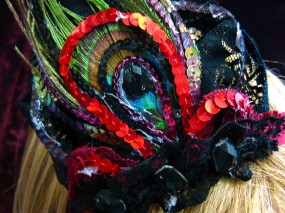 It's made up of elastics, lace, sequins, a few black rhinestones, and a peacock feather. I only used a glue gun, which worked surprisingly well. It's really nice working on a project like this at the store, because I have full access to so many trims and don't need to plan anything ahead of time, plus it only took about 20 minutes.