I had a tiny bit of yarn left over from my first rainbow sack, so I decided it continue the momentum and use it as the base of another grocery bag.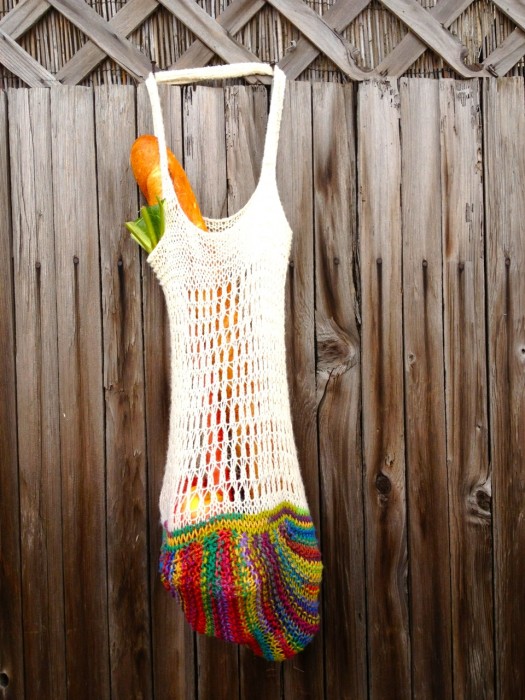 I followed the hex bag pattern pretty exactly, except at the handles. I decided to make two handles to more evenly distribute the stress, since the white yarn is a little thin. I think the mesh pattern for this bag (YO, k2tog for one row, k next row) creates a stronger netting that works well with this yarn.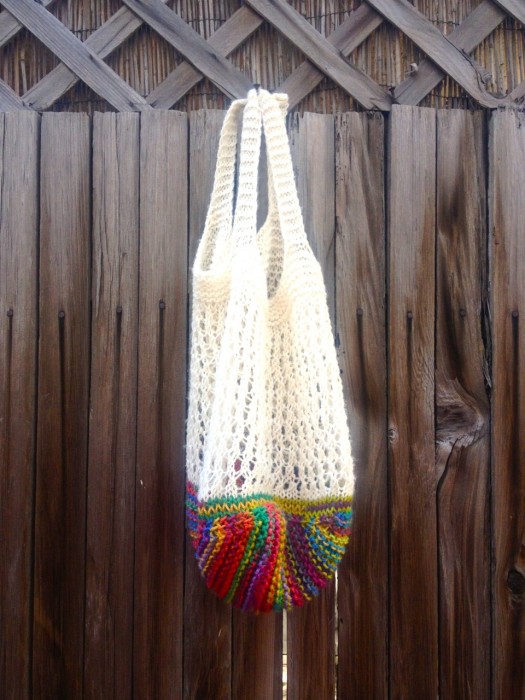 The white yarn came from the Boys and Girls Club stash. I think it's sport weight, and definitely acrylic.
Damn, I love the rainbow yarn in a garter stitch! I want wallpaper that looks like that. Can anyone recommend some great garter stitch patterns to take advantage of those gorgeous colors? If I make a garment, I will invest in a nicer fiber.
I'm half-heartedly working on my third bag right now. I've realized that knitting with larger needles bores me; but when I've got size 7 or smaller in my hands I get so jazzed as seeing the yarn slooooowly turn into fabric. It's ironic that chunky knits are supposed to be quick projects, but since I'm not excited to work on them it takes me forever (I'm sure I will revisit this statement halfway through my first sweater).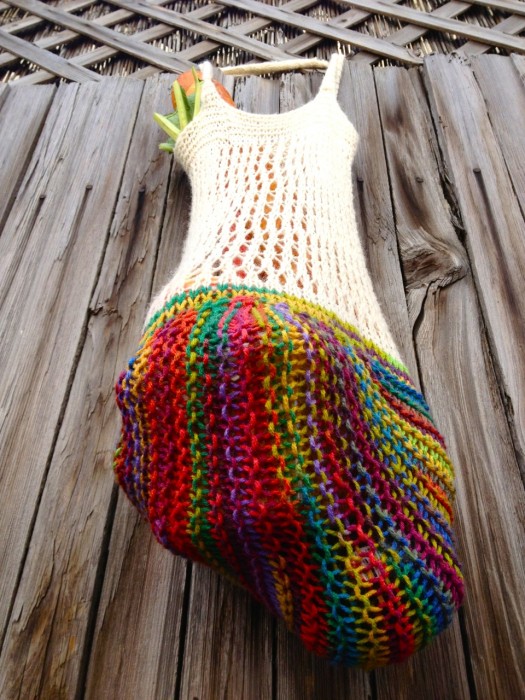 Let me tell you, the cashiers and baggers in LA love my rainbow grocery bags. I've gotten most compliments from teenage boys. They just love the knitting, and the colors. LOVE IT.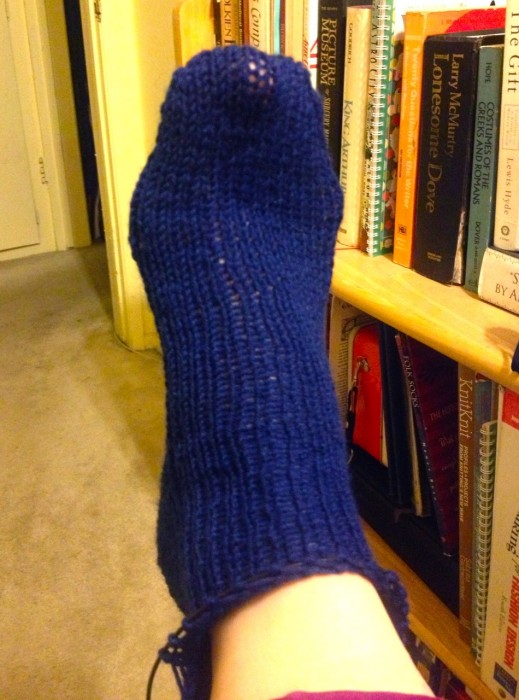 In other knitting news, I've started my first pair of socks! It's using a vintage wool/nylon blend and Liat Gatt's charming instructions. This is one of the reasons I learned to knit, and I'm thrilled to be accomplishing this goal. However, my needle is too big (my yarn is sport and the pattern is written for worsted), and there are holes all over the sock. I know that in the end, I will be happier if I start over with smaller needles. It's just a little sad to actually frog my precious sock, but that's what must be done.