Searching through Ravelry one morning, I was instantly smitten by this charmingly eccentric hat: Cat Bordhi's Anemone. What's not to love? There's the elegant twist of the moebius brim, the wonderful bunching of rows of knits and purls, and of course, all those fabulous tendrils springing out from my head like a million brilliant ideas.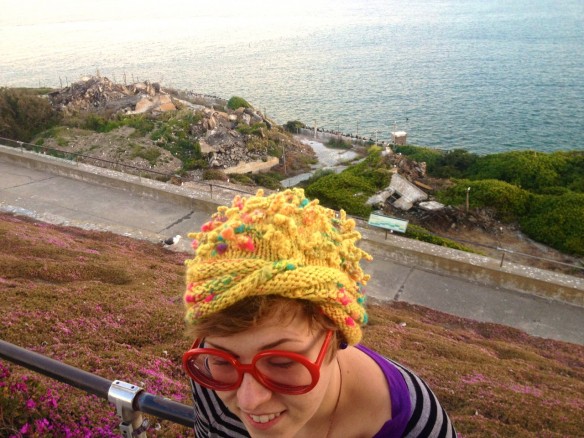 This picture is quickly becoming my favorite picture of me. We took these pictures at Alcatraz a couple weeks ago. My dad and stepmom were supposed to fly in from Massachusetts but had to cancel at the last minute, so we went on the tour for them.
I love the moebius brim! You wind up knitting it from the center row out, so that instead of it growing from top to bottom, the rows are added to the top and bottom. It was a little tricky, but Cat Bordhi's tutorials were clear to follow.
I have a gorgeous fuchsia yarn that I think would be great for this design, except it's not superwash (the hat should be washed in a machine to plump up the tendrils). So I wanted my first rendition to follow the directions, which is laughable in retrospect and should have been obvious up front. I know who I am, and someone who follows directions when making something is not my style.
I love the rainbow slub of this chunky yarn, and it matches a scarf I bought in Florence in 2005. The yarn came from Micheal's, and I believe it was on sale. I kept the sleeve while I was knitting and threw it away without a single thought about blog posting. I do remember that the colorway was "Tempo" and it's a wool/ploy blend (I think 50/50). However, it's much thicker than the recommended worsted weight, some sort of chunk, but for some reason I didn't think that would be a problem, so I got to work on the brim.
Sans gauge swatch, my first attempt was way too big. Two guage swatches later, I realized that even the tiniest needles weren't going to make this yarn worsted weight, and so using US#5 needles I just made the "baby" size. I wound up doing just one series of the tendrils (in each spot in the row) before beginning my increases. It fits perfectly!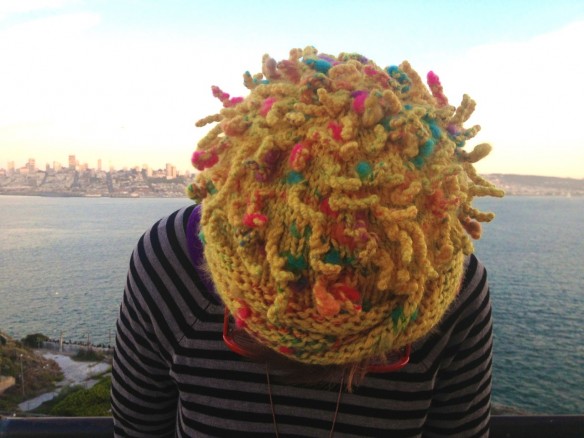 My tendrils seem to curl a little bit, which I think is cute and due to either the uneven thickness of the yarn or unevenness of my twisting. With this yarn at least, I didn't notice any difference after washing. I'm definitely looking forward to making this hat again with recommended yarn, but first I have two other yarns in my stash that need to be worked up!
I love this hat and wear it whenever its chilly at night in LA. I tend to get a lot of stares when I wear this hat out, which can be disorienting, because they seem to be of the "what the fuck is that hat?" nature. Whatevs.