If you follow my sewings at all you'll be familiar with this design. I've been playing with variations on this V-neck for months, and I don't know if I'll be stopping anytime soon. It's such a great way to harness the attitude that comes with wide stripes, as opposed to the boring (and largely unflattering) horizontal stripes. It's dynamic but still classy, and the aloe color scheme keeps it calm.
LIKE IT? THIS SHIRT IS FOR SALE IN MY ETSY SHOP!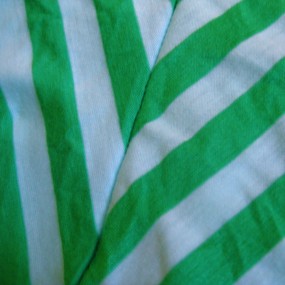 Plus this cotton jersey has amazing drape and fantastic stretch. It's silky and slinky and as I'm writing this I'm thinking I need to get 10 more yards next time I'm at Fabric Planet! Maybe some more tops, and some dresses, and even leggings? Lately all I can think about is leggings…
For now there's only one of these shirts, so grab it on Etsy fast!
My model for this shirt was Ms. Cassandra, who looks good in everything, and was so obliging for my photo shoot!