LIKE IT? THIS SHIRT IS FOR SALE IN MY ETSY SHOP!
Nearly every top I've made this year have had kimono sleeves. They're elegant and casual at the same time, plus infinitely comfortable. The slouchy rounded pocket adds to the low-key vibe, and I know you all have a lot of fun with pockets.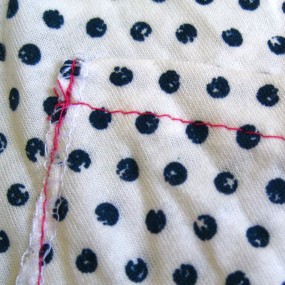 This shirt is made out of medium-weight cotton jersey from Fabric Planet. The pattern has small dark navy dots, but instead of being solid circles they look like they were printed using bubble wrap as a stamp (which I've done before to awesome effect). The classic design is subverted with a little bit of edge. The hems were all down in hot pink thread for some perky contrast. It's lighthearted without getting too saccharine, comfortable without being lazy.
I sewed these shirts up on the overlocker at work, on one of my first runs on the machine. It was such a dream, even though the motor just died! Sadly, this was the last of this fabric, which we never had a whole lot of to begin with.
This shirt is available in small, medium, and large but there's only one in each size so hurry up and buy one on Etsy!
Thanks to Cassandra for being such a fantastic model! I've got lots more pictures of her wearing the clothes I made, so stay tuned.