[pinterest]
I thought that I posted this weeks ago. How on earth did this blazing glory slip my mind?! I like to think that it's a very special closet where neon tessellations can be forgotten.
I feel like this vest accentuates the waist. It's perfect for bellydancing, or the circus, or of course Burning Man.
This omission came to my attention after the fabulous Oona came into the store and picked out the same fabric! It was near the end of a very busy but also awesome morning, and I may or may not have shouted her name as soon as she came through the door.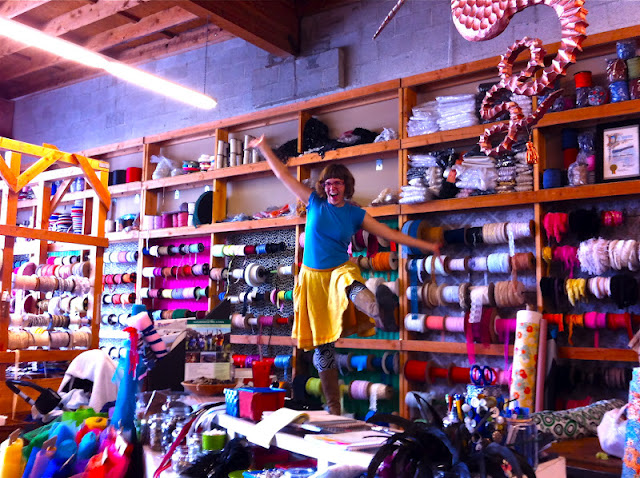 Like I said, it was a crazy morning. And I am not able to maintain my otherwise cool demeanor when surprised by people I admire from the internet. Just as Rick Steves. Oh but do go read her write-up of the craziness; she really hit it right on!
Back to the sewing! Devoted readers will recognize this same fabric from my Mystic Jigsaw coat. It's a heavy woven wool that we have near the upholstery section at Fabric Planet, but I don't think anyone has bought it for their sofa. Yikes, even I draw the line at that!
I used a soft woven cotton for the lining, which has a small pocket for a cellphone or money. The black and white trim is an upholstery twist, and I knew right away that this fabric would need it. I used pressed brass snaps on the placket, so the vest is reversible if you'd ever want to be a little more mellow.
Apparently I don't have a great photo of it, but you can sort of see that I made the back in two pieces. I've got the purple shapes forming an upward chevron on the back, and the diagonal continues to a V in the front. It's pretty sharp lookin'!
There will probably be new interpretations of this vest, but for now you can find the one-and-only in my Etsy shop.