Hand-made socks were a major motivator in learning to knit, and I really love making them (which is a relief; I was afraid that it might be too tedious). It's a simple and compact project that I can carry everywhere I go.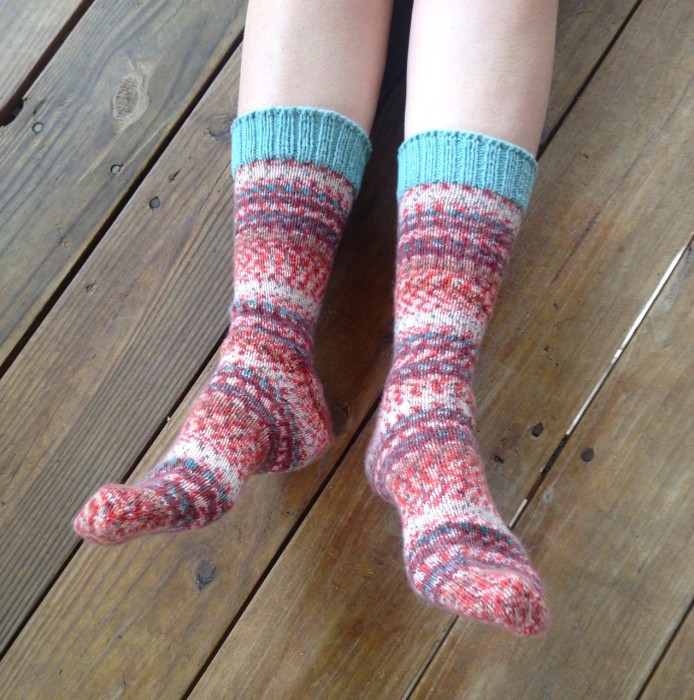 Although my first pair of socks took about 3 months to complete, this second pair was finished in 4 weeks. And they are much longer! I did a basic calculation, and estimate that each sock contains about 12,000 stitches. Sock knitters, does that number seem correct? It makes me dizzy.
I used 47″ #3 Addi Turbo Lace needles, and followed Liat Gatt's pattern for toe-up socks on magic loop. The self-striping yarn was donated to and from the Boys & Girls Club (I used to volunteer as a sewing teacher, and still pop in when I have the chance. The coordinator of the sewing program is an amazing lady. Thank you to Donna for supporting my growth as a maker, and for fostering that love of craft in so many children.).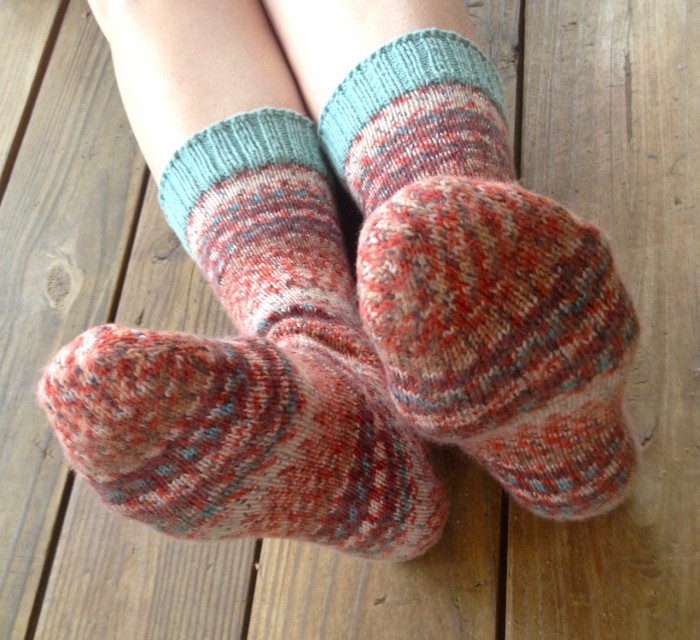 As a designer, I usually want control over colors and stripes. This was my first time working with self-striping, and I am definitely a convert. It was exciting to see the colors and stripes emerge, and the pattern helped me track my progress as well as hide any flaws.
I have several balls of donated self-striping to get through, and then I can't wait to select new yarns for myself! I keep window-shopping (or more accurately, browser-tab shopping), but I think I will refrain from online shopping and instead pick up future pairs of socks on trips. The idea of seeking out a local yarn shop, in foreign localities, and creating my own souvenir is so… romantic! This is not a word I use regularly.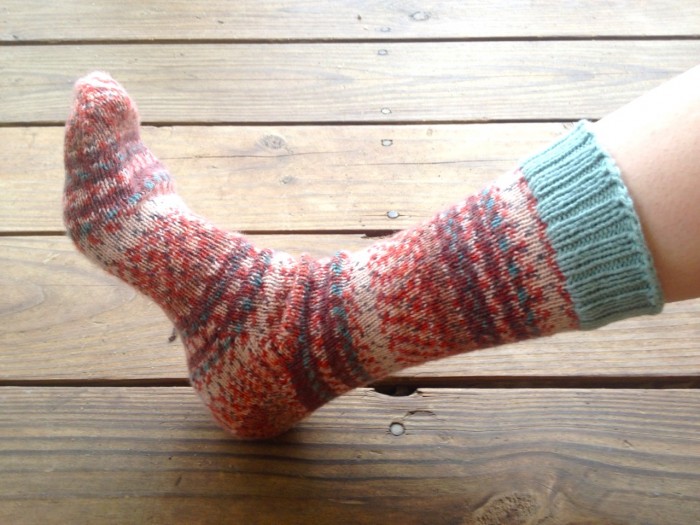 I love the contrast cuff, and will integrate contrast toes and heels in future socks. This aquamarine yarn is a bamboo-nylon blend. It's definitely thicker than the fingering-weight, and so I did the ribbing on #1 needles. I was concerned about the weight discrepancy, but I think it totally works for the cuff.
I live in LA, but luckily I have icy feet, so handmade wool socks will actually get worn this winter. But future sock yarns may be more of the bamboo persuasion.