Maria and I have a good time at Renegade this past weekend. We met some really cool people, sold some art, soaked up the sun, and had a nice visit. Our booth was definitely one of the most colorful spots in the park.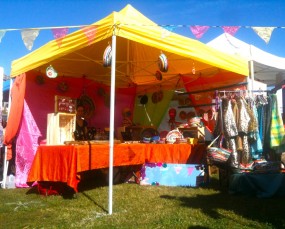 I've been thinking about my business a lot over the past couple weeks, and I'll be making some changes to the way I do things. I'm making a distinction between being busy and being productive, and trying to channel my energy into what works, which for me has been masks and striped leggings. I'll also be making sure that I have time to work on my personal projects–small projects should be knocked out so that they are finished, not sitting in a growing pile of things in progress. And most importantly, I want to give myself some free time!
Hopefully somewhere in there I'll be posting more often. It's a lame excuse, but now that Jason has a day job it's really hard to go out and take photos of what I've been sewing!
In the meantime, a lot of items in my Etsy shop are on sale, so check that out!