This is kind of amazing. I finished this dress, wore it to a party, took pictures, and got it posted all in one day!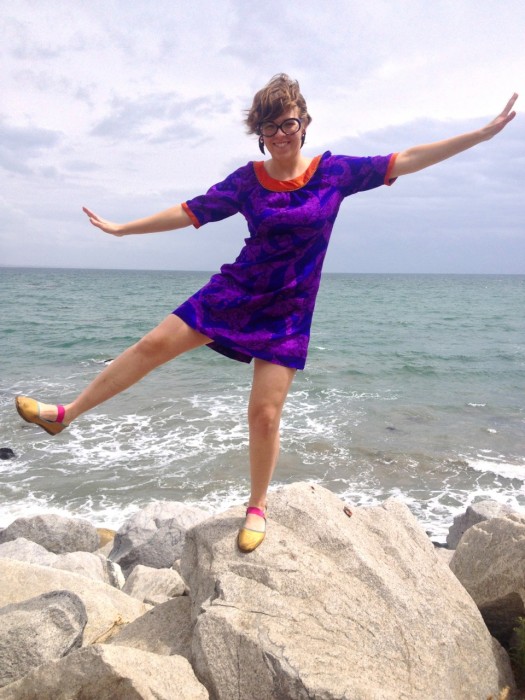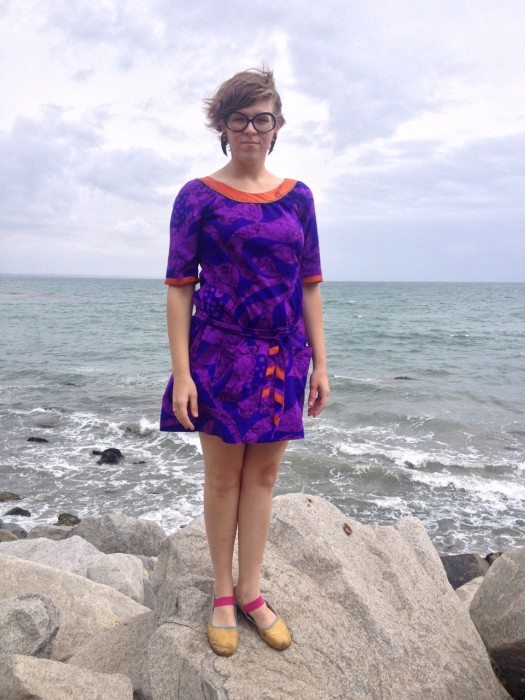 This picture makes it look like the wind was blowing my hair to the side, but that's just how I wear it nowadays.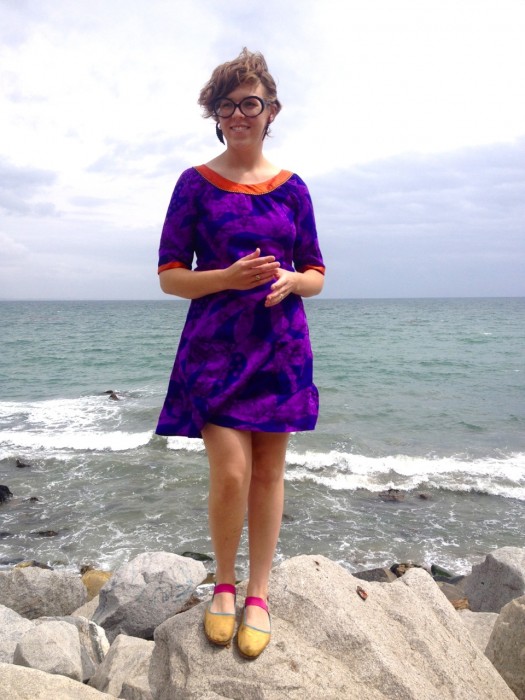 At the end of the party I smashed my thumb in a door, and wound up taking home an old-fashioned glass filled with ice because it hurt so much. There's some discoloration and it's sore, but luckily no major damage! Anyway, that's why I'm holding my thumb in this picture.
I used Simplicity 3835, which is an out-of-print Built by Wendy pattern. Luckily I was able to borrow it from a lady in my sewing group, which has inspired a pattern tracing party to be held next week (and I can't wait!). Thank you for the pattern Jill!
My step-sister-in-law got the purple fabric in Hawaii years ago (same as with my bathrobe). It's a mid-weight cotton with fabulous drape. The orange collar was cut from a scrap of my wedding skirt, and the gold/blue trim was in my stash. In fact, the only new material for the dress was the $.50 zipper.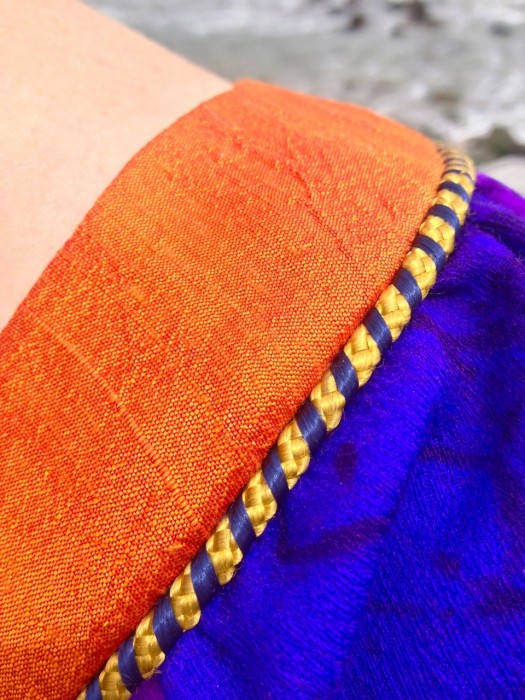 I'm really smitten by the orange/violet combination. I was inebriated when I made the original decision, and second-guessed myself a couple times while sewing. I'm so glad I trusted myself! So far I've only worn it during the day, but the colors are so luminous in the sunlight.
My version was originally inspired by Kristin's chic dress, although I made many modifications to the pattern. The biggest change was that I lowered the neckline by drafting a new collar (I made a muslin of the whole dress first). Since the neck was lowered, there was less excess fabric to be gathered, which I might add back in if I make this pattern again. Instead of the back side darts I shaped the zipper seam, and added darts to the front. My pockets are slightly gathered at the bottom.
Here's my muslin with the original neckline. The picture on the right shows the original pattern piece (in yellow) and my wider collar (in white). I wound up shortening the collar piece to 1.5″ finished.
I cut the longer length for the dress, but wound up shortening it a few inches. This is definitely the shortest length I'm comfortable with, but I think that since I'm so covered up at the arms and chest that this dress needs to be short to keep its edge.
I finished all seams with bias tape, cut from a random polyester in my fabric cabinet (and also used on my Cool Contrast tee). I also made a belt, with orange stripes. I'm not sure if I prefer the dress to hang loose or to wear it with the belt. The belt has a tendency to create the illusion of a belly pouch…
Now I've jumped on the shift dress bandwagon! It's not the Laurel pattern, but it's still the sewing-world trend. I'll definitely be playing with this silhouette more, with raglan and set-in sleeves.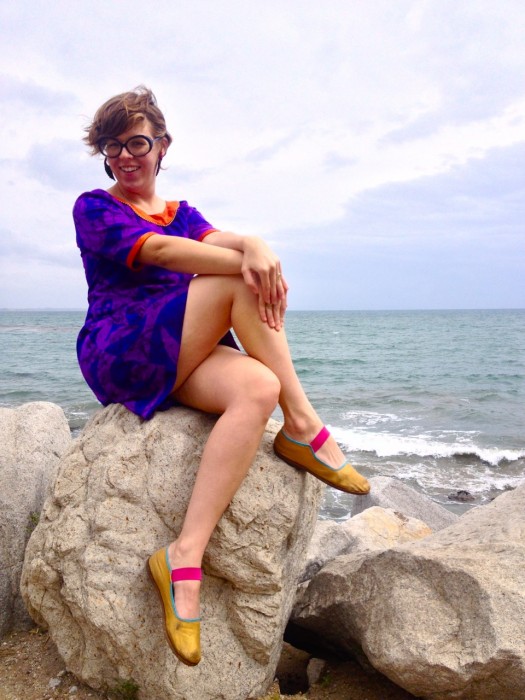 I'm calling it a miimii because, when it was on a hanger before the side seams were sewn, my husband asked "what's up with that muumuu you're making?" And since it's smaller than a muumuu it must be a miimii.
I wore it to my husband's stepmother's 75th birthday party in Malibu today, which just happened to be Hawaiian themed. It was extra perfect because it was her oldest daughter who had given me the fabric, and had planned the party.