I have a really strange habit: the night before leaving for a trip, I get the urge to make a new piece of clothing to take with me. And so I usually spend the last few hours at home sewing!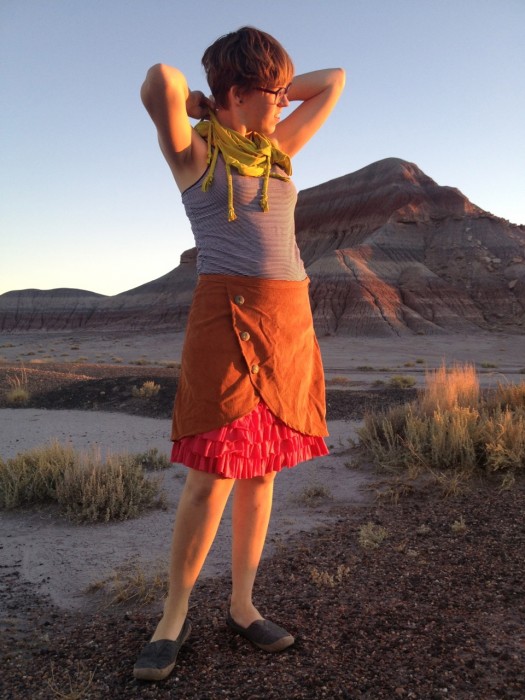 These pictures were taken by my husband in the Painted Desert National Park as Jason and I drove to our New Orleans wedding reception.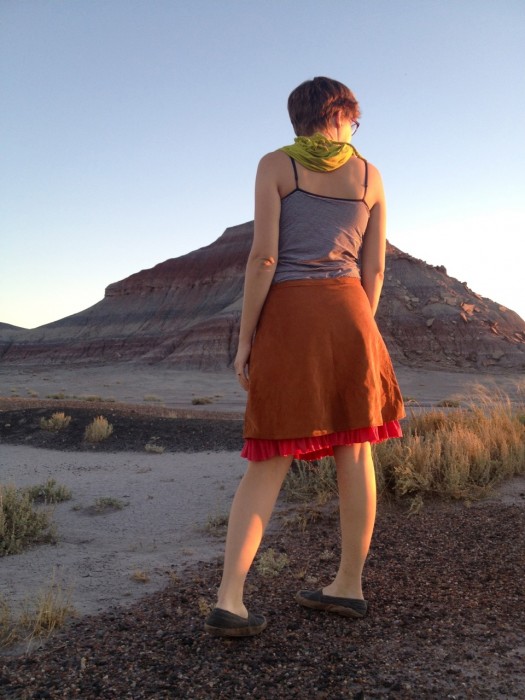 I feel a little guilty about completely ripping off fellow Etsy seller Loni Gaghan's design. But that's what making is all about, right? Anyway I'm not about to spend $60 on something I could make myself (although I would advise anyone else to, because it did take a few hours and seems totally a fair price), I certainly wouldn't make this skirt for anyone else, and it was in the noble goal of de-cluttering my stash.
All of the materials for this skirt were overflowing from my fabric cabinet. The corduroy (left over from pants I made for Jason last year) was particularly bulky, and I never actually thought I would use it. I bought the coral cotton jersey for a dress I've never made, although I still have enough fabric to make that happen. The lining is a poly-satin that was completely consumed in this project.
I really love the tulip hem, and had been thinking of making a skirt in that style for weeks (and filling up my sewing board on Pinterest with ideas). When I decided on this design, I planned on adding the vintage wooden buttons to the front of the skirt. I didn't even realize that they have tulips on them! Which makes them even more perfect.
I used a hook and eye on the tab of the waistband, but it is way bulky. I think I'll switch to just a snap.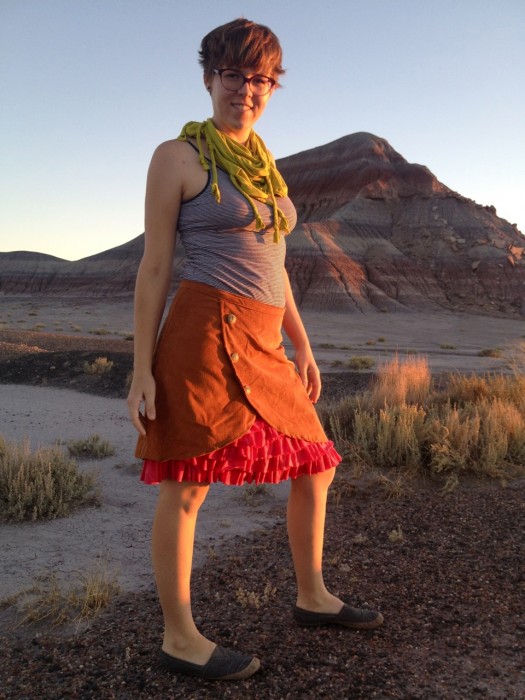 This skirt isn't my normal style, but I really like the petticoat can-can dancer feel of it. And I think it will be really nice for winter layering. Also the tan corduroy feels like a neutral, without being bland, and the coral gives it the pop of color I need to feel like myself.
Because I do not even wear or have an interest in ruffles, I don't own a ruffle foot for my machine. I just gathered the jersey stripes manually, and it was fine. I used about 200″ of fabric to make the ruffles. Probably will not feel the need to add ruffles to anything for another 3 years.
I forgot to incorporate pockets, although I'm not sure where I would have put them. Maybe I could still add slash or patch pockets to the back? Opinions on that?