Well today is my mom's birthday (it's also my oldest sister's birthday, but I don't have a project related to that). As a gift, I made her a coiled fabric bowl using her favorite colors. Most of the fabrics are silks, with a few cotton strips thrown in for good measure.
This was the first time I've used a color scheme for a bowl, and I must say that I'm very happy with how it turned out. I may even do this again. I will definitely be incorporating more silks into my bowls. The luminosity of the fabric really gives the finished bowl panache.
One side of the bowl was sewn with yellow thread and the other side with pink, which accounts for the fabulous tonal differences.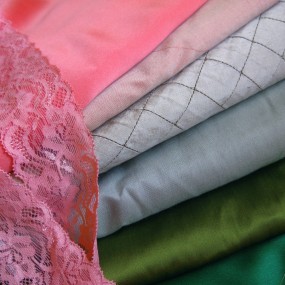 In addition to the bowl I sent 2 yards of each of these fabrics, which should be enough for her to make whatever she wants. From top to bottom, there is elastic lace, a coral charmeuse, a dupiani, champagne diamond stitched silk, light green bamboo, a medium-weight silk, another emerald charmeuse.
Happy birthday Mom and Mel!