I wanted to make something special for one of my loveliest friend's birthday in July. She already has a massive collection of summer dresses, so I figured one more wouldn't hurt. She's way cool and like bike rides but also works in an office, so I designed something that would be perfect for work and the all night party that follows.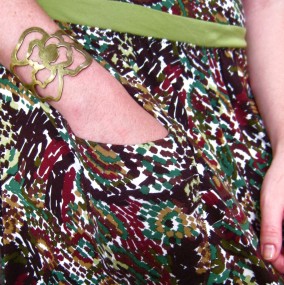 This jersey has a wonderful weight to it, and the print is sophisticated without being boring. It's got lots of different tones but isn't garish at all. What's more, the small print will hide a variety of stains, as Annie proved when we were out to lunch over the weekend. To me, the print looks like it was made with a small bristly paintbrush, and I'm calling it "a lady's camouflage."
The belt is sewn into the dress with elastic underneath to give it some structure, as well as to emphasize the green in the print, which is Annie's favorite color. There's also a pocket on the front that is hidden by the pattern that's the perfect size for a set of keys and a iPod for a bike ride.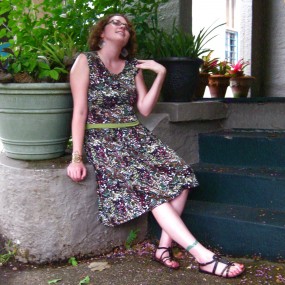 I made the dress in Los Angeles while imagining Annie's figure, and I'm so glad that it fits her so well! Doesn't she look like the quintessential Southern lady? No wonder her middle name is Scarlette!