I am so gloriously busy finishing up projects for Burning Man that I really shouldn't be starting any new ones. But in the middle of working on one new costume I realized that I needed a pink and gold top hat. Yes, I could have definitely found one at the Beautilities store around the corner, but I also knew I could make it myself. And so, voila, the $1 top hat!
I made it out of scrap cardboard, which of course I got from Fabric Planet (EVERYTHING I make comes from that store, even if it's using trash). I used hot glue and some packing tape to keep the cardboard together. The base was a little rough–you could see the seams and bends of the cardboard very easily– so I covered it with some foam shelf liner I had lying around.
The hat was then covered in this AMAZING mirror gold that I suspect is actually vinyl wallpaper (wouldn't it be fabulous in a powder room?). I can't get over how beautiful the reflections are, but unfortunately it scuffs very easily. For the top I cut out a spiral from a gift bag, which I just can't wait to see under the lights of the Sensatron on the playa!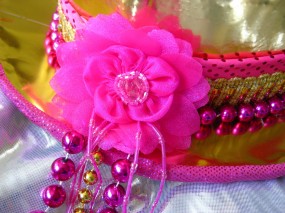 The pink glitter lycras are scraps from a new bodysuit I'm making, as is the ruffle gold. I added on some Mardi Gras beads, and the flower applique came from Fabric Planet as well.
Now that I've got that lagniappe project finished, I've realized I need a pink and gold light up cane. We'll see about that one.
VOTE FOR MY PROJECT IN THE CRAFTSTER REDUCE REUSE RECYCLE CHALLENGE!