Well, time to being showing off the wedding clothes! The boots seem an appropriate place to start, seeing as I've posted about them a few times already (and half the comments on my Animal Collective tee were asking about the boots!).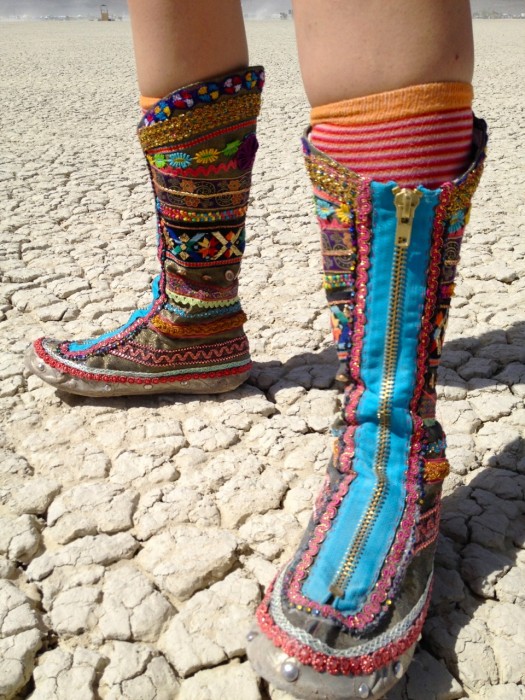 Black Rock City in the background! I totally love this picture Jason took.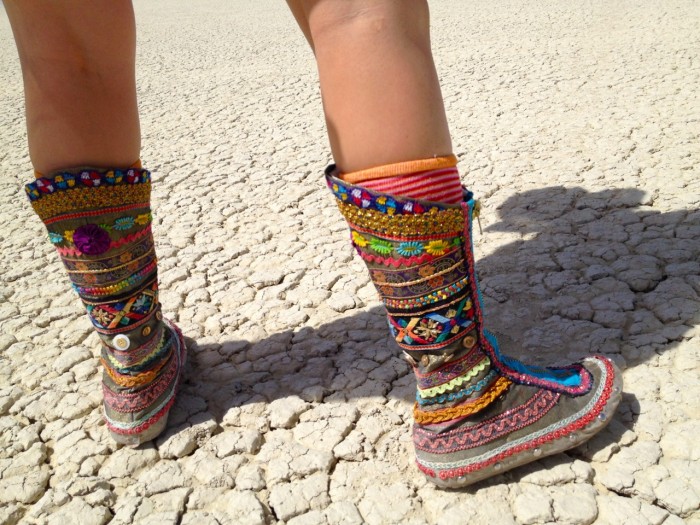 As soon as we got engaged, I planned on wearing some handmade Thai boots from Siamese Dream Design. And while I love my boots to death, they weren't completely comfortable. I was fine wearing them all day, but so happy to take them off at night. I wanted something better, and might as well make it myself!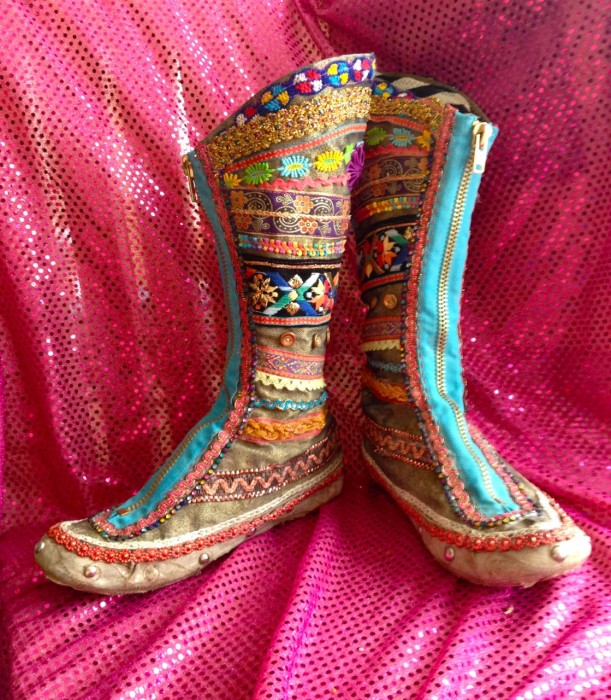 I had made the base of the boot in 2011, the night before we left for Burning Man. And they rocked! I loved the gold, which wasn't too shiny. I used a zip-top sneaker from Kmart at the base and glued the gold cover on with E6000. It's held up with no problem, making that stuff the greatest glue ever. As I was making these boots at midnight the night before we left for Burning Man, there are no pictures!
This year I replaced the old, slightly too tight zipper with a fabulous teal and gold zipper. I used red upholstery thread (from my Grandma's sewing room) and sewed it by hand. And then came the trim… I spent $50 at Lincoln Fabrics on all these beautiful ribbons and trims, and picked up a few other pieces at Fabric Planet. The fabrics and zippers were in my stash, but pretty much none of the trims.
Most of it is sewn by machine, which made the decorating a breeze! Some of it is glued on. This time around, I switched to Beacon fabric glue. I've had great results on other projects, but it wasn't tough enough to hold all the trim in place on the boots. Which isn't to say that it's a bad glue (it was much easier to work with and smell than E6000). I'll be picking off the old glue and re-attaching the trim at the bottom of the boot, and hand-sewing the rest.
I lined the shaft of the boot with some cotton jersey I had left over from leggings, so they are comfortable to wear with short socks.
I wore the boots throughout the week. They were eye-catching and much remarked upon, but most importantly: they were always comfortable! And perfect for the wedding.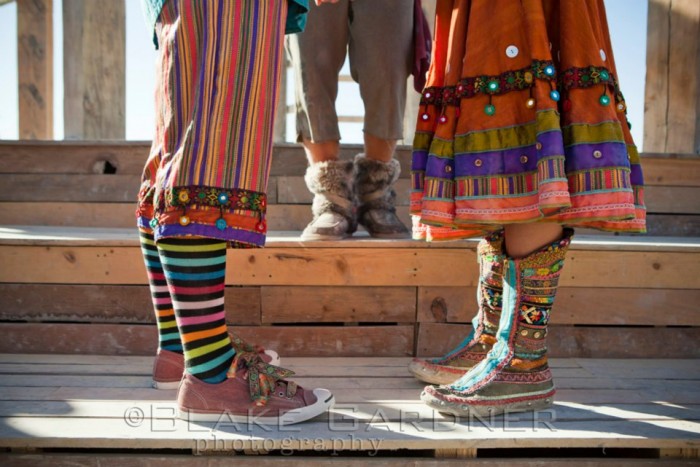 Yes, this picture again! It's one of my favorites! In fact, Blake transferred it onto a wooden board and it's hanging up in our living room.