This dress actually started off as a shirt that was cut a little long, and then I decided to add the horizontal band to the bottom. I'd never worn (or was interested in) a sack dress before, but I feel pretty chic and easy when I wear it. Although I feel it works best with these wedge heels, and I very rarely wear anything but flats. So it's a date-night dress, and I kinda like having something a little special for special times.
This dress pattern is designed for striped jersey, and except for the contrast bands, the dress is all one piece. The back, sleeves, and front piece is shaped sort of like a Y, and the only seams are at the center front and at the sides. It's extremely comfortable to wear, and I always feel elegant with all those stripes running across my body and meeting in a perfect V at the front. Needless to say, this pattern took a few tries to develop and I'm pretty proud of it.
Jason took these pictures at Third Street Promenade in Santa Monica. We went to see Smoke and Mirrors, which I designed costumes for. The magic show will be running in SM for a few more weeks, and then will move to the Road Theater in January, so check it out!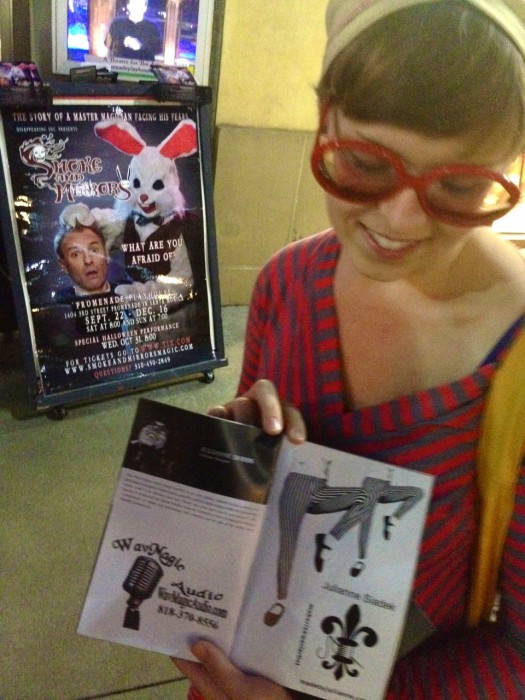 When I submitted my bio for the playbill I used Dodds as my last name, but my ad is for Julianne Siadek since that was after the wedding. Nice that they were on the same page!