I've found myself reconsidering commercial patterns over the past few weeks. There are so many nice Muse Dresses, although it was Kristin from Very Prairie who finally inspired me to reintroduce that pink tissue paper into my life. Despite (or because of) its popularity Butterick 5130 is no longer in print, but I was able to find a copy on Etsy.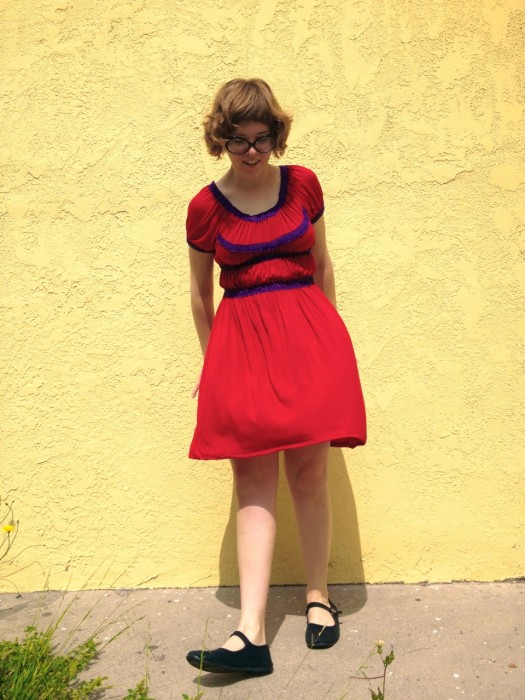 As lovely as this dress truly is, it's a little more romantic than my style. Although all the reviews mention how clever the pattern is for using the seam allowances as casing for the elastic, I threw that whole concept out the window and opted for highly visible exterior casings.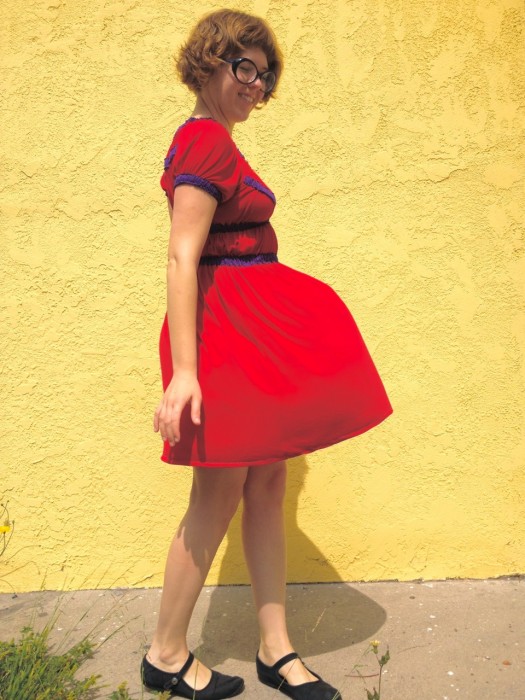 I decided to use a bright color, and this red cotton jersey from Fabric Planet is perfect. Not too orange, not too pink. At first I was hesitant, because a red dress is very A Red Dress. Like, "I'm a fabulous WOman and I wear red dresses out for brunch with my gal pals!" I do not need to get my groove back, but apparently I have room for a singular red dress in my wardrobe anyway.
I wanted the two colors to coordinate without matching. I was aiming for a slight clash of colors, and I think the purple/red combo is a perfect juxtaposition, rather than head-on collision. Obviously, aqua stitching was a must.
Like nearly everyone else, I added a waistband to make the dress less like a nightgown.
The pattern calls for a moderate-stretch knit fabric, but since the dress is made to be about three times the size of the wearer, I don't really think the stretch is so necessary. I bet the dress would look nice in a woven silk/cotton blend, and I think it would totally work. I'm also considering a maxi length. Although I normally consider that style to be too much dress, I have an intriguing image in my mind. Maybe with shorter sleeves? And a printed skirt?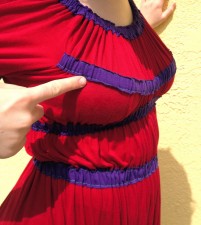 The dress was very comfortable for a long day at work, although the lack of pockets was a problem. Of course I'm smart enough to add pockets, but the weight of my phone would make the dress pull and sag in a very strange way. This probably wouldn't be a problem for a less-stretchy jersey. The pattern instructions were very easy to follow, although I didn't really follow them. To allow for the gathering, the pieces are all insanely wide, so you can't really skimp on the fabric requirement.
If I hadn't done all those fancy casing and top stitching, the dress would probably take 3-4 hours to make. I can think of worse ways to spend an afternoon.
Honestly, I'm not sure if I would make this pattern again. Husband-in-training Jason likes the dress, but I don't think I need more than one of this very distinctive design. And looking at these pictures, cute as they are, I'm not in love with the dress. I felt very aware of the dress all day, and I didn't know how to accessorize it (if you consider shoes to be accessories). If I were to repeat the pattern, I think I'd feel compelled to give away this first dress. Doesn't that sound promising to all you bloggerellas?