I'm pretty pleased with my first ever knitting project. It's based on this very basic hat, but I wasn't paying attention, missed a few steps, and decided to just continue with my own design. I'm terrible at following other people's patterns!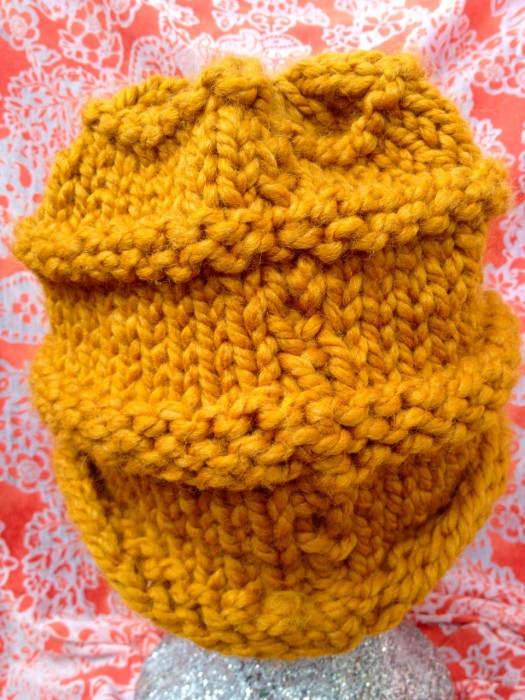 I used Lion Thick & Quick, in a 80% acryllic 20% wool blend. It was really nice to work with as a first project: the yarn held together well, it was easy to see my stitches, and the thick yarn made this hat a fast project! Plus I do love the color, and it goes very well with all my other yellow hats.
I used #10 bamboo circular needles, and then waited almost a month to sew the side seam! And I did such a horrible job of it! I know that I should learn how to do a decent job at a side seam, but in the meantime I think I'll stick to knitting in the round.
Since I'd bought two hanks of the yarn, I decided to make a second hat (and I think I have enough left to make a third!). My second hat was knit in the round on the same needles, and I really loved the process. Near the top, I switched to DPN, which was challenging but kinda fun. I'm looking forward to trying out magic loop on my next circular hat!
For this hat I was able to adhere to the pattern (mostly), but the hat's too short for my head! I have some crochet needles somewhere, and once I find them I will add a band to the bottom of this hat… or maybe give it as a gift? To a child? In the meantime I've been wearing it in my apartment, because it's been freezing in Los Angeles!
I've wanted to knit for years, but never gave myself the time and space to concentrate on it. There were a few aborted attempts that didn't break my spirit, but let me know that I wasn't ready yet. One morning I woke up, spent a few minutes on Knitting Help, and spent the rest of the day gleefully knitting swatch after swatch.
Based on all the handwork I do, I knew that I could knit. And it's pretty easy, and I'm really excited about it. I'm already working on my fourth hat, on #4 needles, with stripes, and ribbing, and I can't wait!